More Book Reviews
Best Selling Poker Books of 2014
How did the new books compare to the old classics? Well, we will let the data speak for itself. Take a look at the list of the best selling poker books of 2014.
Deal Me In and Eat Professional Poker Players Alive Reviewed
There isn't a clear path by which people become professional poker players. There aren't any good courses at the local vo-tech for a person to study. The road to becoming a poker pro is inevitably difficult, circuitous, and filled with setbacks. Deal Me In is a book describing the course by which twenty top poker players became professionals.
Poker Winners Are Different
There is a big difference between what's typical human behavior and what is called for to play poker at a high level. There aren't a lot of people for whom maximizing their expectation in poker games comes naturally. Poker Winners Are Different by Alan Schoonmaker examines this conundrum.

Weighing the Odds in Sports Betting
by King Yao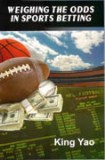 Weighing the Odds in Sports Betting consists of 23 chapters, many tables and a minimum of mathematical equations. The book discusses some of the most vital areas old pros ponder and beginners often misunderstand: why lines move; scalping and middling; hedging and hedge mistakes; parlay cards; first half betting; and the ever popular Super Bowl props. Included is material on money lines; removing pushes; the half-point and push percentage; money management; parlays; teasers; market value in sports bets; estimating the expected value of a hedge; avoiding hedge mistakes; hedging the second half. The discussion on betting NFL team wins and what to look for in parlay cards is valuable; those interested in office pools will find an edge as well. About 15 pages on basketball betting; eight on NFL totals. Packed with advice that examine the impact of returning starters in college football for example and the best time to bet, plus avoiding traps. Something for everyone including how to find a line service and the good and bad side of Internet forums and who's got value in the print or electronic media.
Read a review of Weighing the Odds in Sports Betting
Winning at sports betting is difficult, and there are few who have been able to win consistently. There are many books on the market that provide advice on how to be a winning bettor, but few are

Nick Christenson is widely regarded as one of the best gambling book reviewers publishing today. He is a contributor for Poker Player magazine, and has published in Full-Tilt and Gambling Times. He is also the editor of the very funny 'Casino Death Watch,' which chronicles the comings and goings of casinos in Las Vegas. He is an avid poker and blackjack player. Nick's website is www.jetcafe.org/~npc/ worth the paper they're printed on, and fewer still provide true insight. King Yao has already written a strong book on limit holdem, titled Weighing the Odds in Hold'em Poker, and now he attempts to bring a similar analytic approach to the world of sports betting.
Most books on sports betting focus on angles, facts, and opinions about the sorts of bets that will be winners. Yao takes a different approach. Briefly, Weighing the Odds in Sports Betting allows us to ride along inside the author's brain as he analyzes the numbers on the board of the sports book. We learn what it is that he's looking for as well as how he crunches the numbers he finds in his quest for advantageous bets.
Early in the book, Yao creates a taxonomy for sports bettors. Based on this, I would categorize Yao as a "Relative Value" player who is primarily a "database keeper". In keeping with this, Weighing the Odds in Sports Betting contains very little true handicapping information. Mostly, the author uses primary game lines, an exhaustive database of results, and some simple math to find situations where other betting lines are incorrectly priced. More popular and well understood bets are considered to be a "correct" markets, and more exotic bets are considered to be less reliable "derivative" markets. This isn't a glamorous approach to sports betting, but it is both theoretically well founded and effective in practice.
Yao covers many types of sports and bets such as Super Bowl props, horseracing's Triple Crown, major league baseball totals, and the NBA playoffs. He also considers many other issues critical to successful sports betting including thinking about sports betting as a market, hedging, and scalping and middling. At times, the book jumps from one topic to the other fairly abruptly. This isn't surprising, since many of these chapters were once stand-alone articles for Two Plus Two's online magazine. It's not a significant shortcoming, though, since they all contain good information, and they're unified by Yao's approach to sports betting.
Many of the author's methods are extracted from the data he accumulates in his sports databases. Since this is so crucial to his methodology, one chapter I would have like to have seen included would have some discussion about how one sets up and maintains these repositories. What information does the author consider important? Is it necessary to automate this process, and if so, how can one do that? How does one prevent errors and typos from creeping into one's records? These are all issues that would have made a nice preview to many of the topics in this book. It's too bad that they're not mentioned, although Yao's book is still exceptionally valuable without this information.
Weighing the Odds in Sports Betting is a very strong reference for those interested in beating the books. It is also the first book on the topic I've read that provides strategies that I'm certain comprise a winning methodology by themselves. Everyone interested in this topic should definitely check out this book as it's one of the very best books on sports betting I've read. More than any other, this book along with a great deal of diligent work can transform someone with an interest in sports betting into a long-term winner. It doesn't contain everything one needs to achieve these goals, but it represents several giant steps along the path. I recommend it highly.