More Book Reviews
Best Selling Poker Books of 2014
How did the new books compare to the old classics? Well, we will let the data speak for itself. Take a look at the list of the best selling poker books of 2014.
Deal Me In and Eat Professional Poker Players Alive Reviewed
There isn't a clear path by which people become professional poker players. There aren't any good courses at the local vo-tech for a person to study. The road to becoming a poker pro is inevitably difficult, circuitous, and filled with setbacks. Deal Me In is a book describing the course by which twenty top poker players became professionals.
Poker Winners Are Different
There is a big difference between what's typical human behavior and what is called for to play poker at a high level. There aren't a lot of people for whom maximizing their expectation in poker games comes naturally. Poker Winners Are Different by Alan Schoonmaker examines this conundrum.

Killer Poker by the Numbers
by Tony Guerrera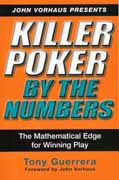 This new book by an exciting new author, CalTech graduate Tony Guerrera, introduces mathematical analysis as a vital tool in winning at no-limit hold'em. Seven major sections offer understandable material on probability, permutations, and combinations. Tony shows how to conduct solid analysis of hands, hand distribution, expected value, and how to apply these findings. Another section looks at unpaired & paired flops, followed by winning with pocket pairs (including flopping a set or better, and playing a set against made known hands). One chapter discusses drawing hands includes playing draws from early and late positions. Shorthanded play is discussed. Packed with charts & explanation, Killer Poker by the Numbers is a goldmine of mathematical ideas for gaining an edge, without intimidating formulas. The 8-page index makes it easy to locate a specific topic.
Read a review of Killer Poker by the Numbers
It's very rare these days that I'm surprised by a poker book's contents, but Killer Poker by the Numbers is one such book. From the title, I expected it to be about poker math, but the approach

Nick Christenson is widely regarded as one of the best gambling book reviewers publishing today. He is a contributor for Poker Player magazine, and has published in Full-Tilt and Gambling Times. He is also the editor of the very funny 'Casino Death Watch,' which chronicles the comings and goings of casinos in Las Vegas. He is an avid poker and blackjack player. Nick's website is www.jetcafe.org/~npc/ the author takes is remarkably different than I expected, or from any other poker book I've read.
When I first opened Killer Poker by the Numbers, I expected information on how to calculate the odds to hit draws and comparisons against pot odds calculations. In some sense, this information is contained in this book, but in a much different context than provided by other poker authors. Instead of examining the odds for a certain set of cards to make a strong enough hand so that one could be confident of winning the pot, Guerrera compares equity gained by possible outcomes for a given hand against a range of hands that one's opponent(s) might hold for no-limit hold'em situations. This is much more complicated, but also a more powerful way of looking at poker situations.
In the "Introduction", the author claims that the math in this book should be accessible to a wide audience, but I'm less sure. Few readers who get nervous when someone starts a sentence with, "A train leaves Chicago at," will be comfortable reading this book, especially since the vast majority of the problems it addresses are significantly more complex than the word problems from our recurring childhood nightmares. There's no magic way, though, to analyze these more complex situations.
Even though the methodology of this book might seem frightening, the motivation behind it is sound and the techniques Guerrera advocates are very powerful. Those that work at understanding this book, and it will be work for most of its audience, will gain analytical skills far in advance of the average poker player. I expect that those who work enough of these problems will develop a superior insight into poker than those who don't. A deeper understanding of implied odds, bet sizing, and realizing situations in which one might be in trouble even with the best hand are just some of the benefits one might realize by applying these methods. Understanding these issues are some of the most subtle in all of poker, and few books cover them well. This is largely due to the fact that they are difficult topics, and it takes so much work to develop the apparatus necessary to gain any real understanding about these situations.
Even for those who work their way through Guerrera's book it's not all roses. One downside is that because addressing these problems is so complicated, only a relatively small number of interesting scenarios are actually addressed in this book. I also feel that the payoff of the "Tournament Poker" chapter was disappointing, especially given all the work the author does to get that far. However, this is an interesting and original book that has the potential to improve many players' analysis of poker situations. I expect, though, that the number of readers who actually put in the effort required for it to provide a significant impact on their games will wind up being quite small.
Killer Poker by the Numbers is an interesting and useful book on the topic of no-limit hold'em, and the methods it provides should be readily adaptable to other poker games. It is not so strong, though, that I would elevate it to a "must read". The mathematics required aren't all that advanced, but the techniques used to tackle interesting poker problems require a great deal of time and effort. While the level of math used may be within the grasp of many poker players, I expect that the amount of energy required isn't so widespread. Some players will find this book very useful, some will find it interesting, but I expect many readers will find it frustrating. For those that are willing to put in some serious effort in order to gain the ability to analyze more complex poker situations than are covered in most books, I would expect Guerrera's book to be beneficial.