More Book Reviews
Best Selling Poker Books of 2014
How did the new books compare to the old classics? Well, we will let the data speak for itself. Take a look at the list of the best selling poker books of 2014.
Deal Me In and Eat Professional Poker Players Alive Reviewed
There isn't a clear path by which people become professional poker players. There aren't any good courses at the local vo-tech for a person to study. The road to becoming a poker pro is inevitably difficult, circuitous, and filled with setbacks. Deal Me In is a book describing the course by which twenty top poker players became professionals.
Poker Winners Are Different
There is a big difference between what's typical human behavior and what is called for to play poker at a high level. There aren't a lot of people for whom maximizing their expectation in poker games comes naturally. Poker Winners Are Different by Alan Schoonmaker examines this conundrum.

Kill Everyone
by Lee Nelson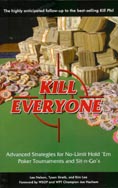 In a follow-up to the best-selling Kill Phil this book blends real-time experience, poker math, and computational horsepower to create new concepts and advanced strategies never before seen in print for multi-table tournaments, sit-n-go's, and satellites. Explains how to choose the right strategy for the right game, provides the proper tactics, and introduces new weapons into a tournament-poker-player's arsenal. These include: fear and fold equity; equilibrium plays; bubble factors; endgame strategies; optimal heads-up play and more While Kill Phil, is 90% pre-flop strategy, this book goes all the way to clearly show know how to accumulate chips early, navigate through the middle stages, and perfect your play on the bubble and at the final table.
In 2005, the book Kill Phil caused quite a stir in the poker community. It advocated a "push or fold" no-limit hold'em tournament strategy that, while sounding simplistic, is remarkably

Nick Christenson is widely regarded as one of the best gambling book reviewers publishing today. He is a contributor for Poker Player magazine, and has published in Full-Tilt and Gambling Times. He is also the editor of the very funny 'Casino Death Watch,' which chronicles the comings and goings of casinos in Las Vegas. He is an avid poker and blackjack player. Nick's website is www.jetcafe.org/~npc/ effective. In late 2007 a new volume appeared from most of the same team that brought us Kill Phil. This book, Kill Everyone, provides even more advanced information on playing strategies in no-limit tournaments, as well suggestions for playing sit-n-gos and short handed cash games.
I wouldn't categorize Kill Everyone as true a sequel to Kill Phil. Kill Phil was aimed at players with little or no no-limit tournament experience who wanted a fast-track path to being able to go toe-to-toe with tournament veterans, and it delivered. Kill Everyone is aimed at the poker player with a little more experience, perhaps gained through using the Kill Phil strategies for a couple of years. It also covers a more diverse set of topics.
After some introductory comments that comprise Part 1, in Part 2 the book moves to cover "equilibrium move-in strategies" for no-limit hold'em. This is remarkable and valuable information, but it's not for the faint of heart. Expect to spend time re-reading and studying this section, as it's very dense and quite math-heavy. It's also very useful. It will take some effort, though, to adapt this material (and the supplemental information found in the appendices) for general use by the reader. Those going through this effort will be rewarded.
Part 3 is a hodge podge of topics. We get some suggestions on how to adapt to strategies that some players have adopted in recent years. We also get an exegesis on luck in tournament that's moderately interesting, but not especially informative. The authors also provide us some suggestions regarding tells and tournament preparation. These chapters are okay, but not as useful or ground-breaking as the material that appears earlier in the book. Part 4 is a chapter on playing in short-handed cash games.
While not all of the book is uniformly great, I found early parts of the book to be truly exceptional. The work the authors have done on he equilibrium solutions is a major contribution to no-limit hold'em tournament strategy, and those who regularly play in these events will want to know what Kill Everyone has to say on this topic. Much of the rest of the book is also useful and interesting. It appears that each of the authors had primary control over different sections of the book. Between this effect and the number of topics covered, the book often feels disjointed, but even if one treats each chapter outside of Part 2 as completely separate and unrelated topic, the totality of the book is strong enough to make it well worthwhile.
Kill Phil was a breakthrough book that everyone with an interest in tournament no-limit hold'em ought to read. Even though it's less even, Kill Everyone is about as ground-breaking as its predecessor, and at its best, perhaps even more so. There is great information in this book and it deserves to be read.