More Book Reviews
Best Selling Poker Books of 2014
How did the new books compare to the old classics? Well, we will let the data speak for itself. Take a look at the list of the best selling poker books of 2014.
Deal Me In and Eat Professional Poker Players Alive Reviewed
There isn't a clear path by which people become professional poker players. There aren't any good courses at the local vo-tech for a person to study. The road to becoming a poker pro is inevitably difficult, circuitous, and filled with setbacks. Deal Me In is a book describing the course by which twenty top poker players became professionals.
Poker Winners Are Different
There is a big difference between what's typical human behavior and what is called for to play poker at a high level. There aren't a lot of people for whom maximizing their expectation in poker games comes naturally. Poker Winners Are Different by Alan Schoonmaker examines this conundrum.

The Gambler's Guide to Taxes
by Walter L. Lewis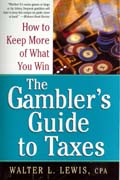 Subtitled A Gambler's Guide to Taxes, this book answers the most frequently asked questions about gambling, taxes and the IRS; explains the right way to report winnings and substantiate losses; and gives the reader information on how to simplify tax preparation and avoid costly mistakes. Covers reporting comps and turning them into a tax advantage, why it could be to your benefit to become a professional for IRS purposes. The author is a CPA and the book is a revised version of his earlier publication. 160 pages, paperbound, November 2003

Gambler's Book Shop
The Gambler's Book Shop (or Club) is the world's oldest and largest shop devoted to gambling and all its related topics. Open since 1964, The Gambler's Book Shop has thousands of books covering over 30 different areas of gambling related subjects. Besides the usual topics that include all the casino games, poker, and horse racing, you will find books about math, probabilities, biographies and novels. If you can't visit in person, you can request a copy of their FREE Catalog (CALL 1-800-522-1777) or shop online from their web site. They also offer a free monthly electronic newsletter that features new arrivals.
It's that time of the year, the time most Americans start thinking about gathering all their receipts, W2s and 1099s for that April tax date known as The Deadline. If you won some money in 2008 at

Howard Schwartz, the "librarian for gamblers," is the marketing director for Gambler's Book Club in Las Vegas, a position he has held since 1979. Author of hundreds of articles on gambling, his weekly book reviews appear in numerous publications throughout the gaming industry. Howard's website is www.gamblersbook.com
video poker
, on the
slots
, or at the track for example, and you wonder if the Internal Revenue Service knows or needs to know. The old pro may know the rules, but newcomers to gambling-including lottery winners,
poker tournament
players and even bingo aficionados--probably have some questions.
I know-you're busy and you'll check with a tax preparation service, Cousin Moe or the guy at the barber shop when you get time. Dangerous move, especially when you cut it too close, have a habit of forgetting or get misinformation from guessers who can get you in trouble down the line.
In honor of those procrastinators or those in the dark, several books are available to guide you in the right direction. Here's a short list of valuable resources you may wish to refer to before signing your tax form and mailing or e-mailing it in:
The Gambler's Guide to Taxes
by Walter Lewis (159 pages, paper bound, $12.95). Published in 2003, it is subtitled How to Keep More of What You Win. The author, a certified public accountant, has prepared a step-by-step guide to help every gambler minimize tax penalties of both winning and losing. His advice is for people who play and kind of gambling games from casino offerings to pari-mutuel bettors, even sweepstakes winners. He explains the best way to report winnings and substantiate losses and outlines financial advantages of becoming a professional gambler. The book includes sample forms to become familiar with and details gaming withholding and reporting thresholds.
Tax Help for Gamblers
-- Poker and Other Casino Games (167 pages, paper bound, $24.95) by Jean Scott and Marissa Chien). Published in 2007, it discusses gambling wins as income; online gambling; taxes, the law, and the courts plus IRS guidelines for player record-keeping. Samples of how Scott, a co-author keeps records are reprinted. One valuable section is devoted to casino comps and gifts, plus cashback and free play followed by casino tournaments and drawings. The book points out the difference between a "recreational gambler" and a professional and covers the issues for non-U.S. citizens who are winners. There are 17 pages devoted to advice for the poker player, and information about what to do if you're audited. Some states have withholding taxes as well on gambling winnings-the book outlines each state. A final section outlines legal precedents and offers examples of sample tax forms it's important to know about.
How to Turn Your Poker Playing Into a Business by Ann-Margaret Johnston (122 pages, paper bound, 19.95). Published in 2005 by, a CPA from Georgia, this title concentrates only on poker in more than a dozen chapters including comparing a hobby to a business; how missing a deduction can cost you; detailing your travels by car; looking at travel, entertainment and meals; keeping excellent records while answering some of the most commonly-asked questions. The book includes many sample forms you may have to deal with and contains a glossary of terms worth remembering.
The Ultimate Poker Journal
by the Comyn Group (106 pages, plastic spiral bound, $24.95) allows the recreational or professional to log his or her action year-round, for poker cash games; multi-table tournaments; sit 'n' go tournaments; and despite the word poker in the title, also serves as a record keeper for blackjack; craps; video poker or table games. It allows you document expenses and track your performance via wins or losses; expenses; hours played; dates and places and to show fluctuations in your bankroll. This kind of record-keeping is what the IRS requires for players to establish the legitimacy of their deductions and can serve as an extremely valuable asset should there be any questions come audit time.
Any item reviewed here is available from Gambler's Book Shop (Gambler's Book Club). The store's web site is
www.gamblersbook.com
. You may order there using MasterCard, VISA or Discover (no CODs please) or by phoning the store any day except Sunday from 9 a.m. to 5 p.m. Pacific time at 1-800-522-1777. Orders usually shipped the next working day. The store, now in its 44th year, is located a mile from downtown Las Vegas, a block west of Maryland Parkway, just off Charleston Boulevard at South 11th Street. You may view the store's complete array of books, videos and software via the Web site or request a hard copy of the catalog be mailed free and first class. The store's address is 630 S. 11th St., Las Vegas, NV 89101.