More Book Reviews
Best Selling Poker Books of 2014
How did the new books compare to the old classics? Well, we will let the data speak for itself. Take a look at the list of the best selling poker books of 2014.
Deal Me In and Eat Professional Poker Players Alive Reviewed
There isn't a clear path by which people become professional poker players. There aren't any good courses at the local vo-tech for a person to study. The road to becoming a poker pro is inevitably difficult, circuitous, and filled with setbacks. Deal Me In is a book describing the course by which twenty top poker players became professionals.
Poker Winners Are Different
There is a big difference between what's typical human behavior and what is called for to play poker at a high level. There aren't a lot of people for whom maximizing their expectation in poker games comes naturally. Poker Winners Are Different by Alan Schoonmaker examines this conundrum.

How to Win the Championship
by T.J. Cloutier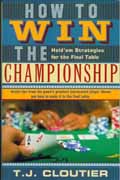 If anyone every knew how to get to the final table of a major poker tournament, it is T.J. Cloutier. With 59 titles and 39 final-table appearances at the World Series of Poker, Cloutier becamse one of the most noted players in the business. Here he reveals his strategies for outmaneuvering opponents at the final table beginning with the difference between good and great players. He then follows with basic principles for getting to the final table, spending an entire chapter on handling yourself when you're just one table away from the money. Before finishing with eight critical tips, he adds his advice on making deals, dead money, modesty, bad beats, lame laments and dealing with the new tournament poker.

Profile of TJ Cloutier
Cloutier specializes in playing tournament poker, especially No Limit and Pot Limit Hold'em. He is the only person in the history of the World Series of Poker (WSOP) to have won events in all three types of Omaha played at the World Series - (Pot Limit High, Limit High, and Limit 8-or-Better High-low split).
T.J. Cloutier's newest book is titled How to Win The Championship -- Hold 'Em Strategies for the Final Table (281 pages, paperbound, $$29.95) and it arrived at the perfect time. Poker's hottest time

Howard Schwartz, the "librarian for gamblers," is the marketing director for Gambler's Book Club in Las Vegas, a position he has held since 1979. Author of hundreds of articles on gambling, his weekly book reviews appear in numerous publications throughout the gaming industry. Howard's website is www.gamblersbook.com of the year is around the corner, with many major tournaments on tap, including the World Series of Poker in Las Vegas in July.
Cloutier, who has won about five dozen major tournaments and has been consistent at the World Series of Poker's final tables has produced 13 chapters, many of them geared to helping the reader examine his or her own level of play and improve with each lesson.
Where most books seem to save the best for last, Cloutier immediately stimulates potential tournament players with chapters analyzing What Separates the Great Players from the Good Players including what constitutes a great sense of timing and why great players make very few mistakes.
Another chapter warns of the dangers of going all in too early and shows how to recognize the impact of antes and blinds – both of which Cloutier learned the hard way.
Cutting right to the chase he isolates what to consider when you're a table away from the money and have a small, medium or big stack, followed by how to survive and prosper once you've made it to the first money table.
By Chapter Five his instruction accelerates as he guides the novice or somewhat experienced player to the second money table with data on how to modify play while shifting gears after the last two tables combine.
Cloutier advises how to play depending on whether it's l0-handed, nine-handed or six-handed at the final table, including personal experiences. His section on sizing up opponents including the super-aggressive type is powerful stuff, as is how to put a power play on a short stack and how to play your relative position in the chip count.
As you begin to taste potential success Cloutier guides you to special moves in a three or four-handed final table while adjusting to your opponents' style of play based on chip count and table position. He also focuses on the all-important quality of hands; raising and limping; playing heads-up.
The book moves at a fast pace, and by Chapter Ten, he's underlining survival techniques should you hit a stone wall in tournament play; avoiding pitfalls most amateurs make in no-limit tournaments and effectively using personal experiences to help you avoid tactical land mines.
Altogether this is a fine book that has plenty of value.