Bob Dancer's Video Poker For Winners!
by Bob Dancer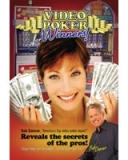 Bob Dancer, America's top video poker expert, has designed the latest and greatest video poker software to do everything but pay you money. You can play VP for Winners! as a game, use it as a tutorial, create strategies, focus on problem areas, check unusual hands, calculate bankroll requirements, figure slot club paybacks, check expected value, and much much more. Learn at home, practicing on the exact video poker screens you find in the casino, including games never before available in video poker software (Super Times Pay, Hundred Play, and Multi-Strike), then win at the casino! The program also contains video introductions and comprehensive help from Bob Dancer. Because Video Poker for Winners! corrects you when you're wrong, this software programs you to win.
Double Bonus Video Poker Paying Back 99.1%!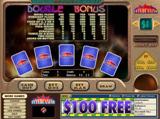 Intercasino offers a Double Bonus video poker with a great payback percentage of 99.1%. Take what you've learned here at ReadyBetGo and have fun playing this great video poker variant!
Most of us have seen Tiger Woods play golf on television, or perhaps even in person. There is a world of difference watching him play versus watching weekend duffers.
I'm not talking about how far

Bob Dancer is one of the world's foremost video poker experts. He is a regular columnist for Casino Player, Strictly Slots, and the Las Vegas Review-Journa land has written an autobiography and a novel about gambling. He provides advice for tens of thousands of casino enthusiasts looking to play video poker. Bob's website is www.bobdancer.com
he hits the ball or how accurately. Since he's the best golfer in the world, OF COURSE his strokes are superior. But that's not what I am talking about today.
The Tiger attributes I am referring to are PREPARATION, CONCENTRATION, and DOGGEDNESS. If he's asked in an interview about the third hole at a course he hasn't played in three months, he'll respond (without looking at any notes) that it's a 383 yards, straight except for a small dog leg to the right near the green, and if you miss the green, you better do it on the left and not the right because it will roll forever if you miss it on the right. He knows this kind of detailed information on every hole of every course he plays. He has a game plan going in and knows how to adjust it according to the wind, humidity, etc.
As for concentration, he takes his time before every shot. Unless the shot is 6 inches from the hole, he studies it from this way and that before he makes his decision. Sometimes he discusses it with his caddie, to get a second opinion he respects. As for doggedness, he plays the same whether he's five strokes ahead or five strokes behind. He's missed something like two cuts in the past 150 tournaments, because he's always trying to do well on each particular hole. Many other players, once they get out of contention for the top prize, seem to give up and just go through the motions. Not Tiger. He's fighting until the end.
Let's shift to video poker. Strong players know how to play every hand. On a hand like Ah Qh Kc Jc 9c, they've thought about it in advance and know how to play it when it comes up. (Answer: Generally speaking, when you get 6-for-1 or more for the flush, you hold 'KJ9' and when you get 5-for-1 for the flush, you hold AQKJ, although there are exceptions to this general rule and we'll discuss it in next week's column.) They do not need to guess on a hand that starts out Kc Jd Td whether this is one of the times it is correct to hold KJ or is this one of the times you hold 'JT'. You ask a player like this about the slot club, and he knows how much the basic club returns and whether or not there are any promotions going on currently that affect his play. You will find that there USUALLY is such a promotion because good players play almost all of the time during promotions. They virtually never stop by to play "just for kicks."
Insofar as concentration goes, you'll rarely see good players drinking alcohol or chatting with friends. If someone does come by to chat, you'll usually see these players stop playing until the conversation is over. The distinctions between hands (say Kh Jd Td 9h 3c versus Kh Jd Td 8h 3c versus Kh Jd Td 7h in 9/5 Super Double Bonus where the correct plays are KJT9, KJ, and 'JT' respectively) are so small that playing while distracted can cause mistakes. Although MOST hands are straightforward, you never know when a tricky one will arise and so you must be alert.
With respect to doggedness, I've seen players get glassy-eyed when they are losing or giddy when they are winning. Their play sometimes changes accordingly, either steaming to catch up or not caring so much because they are "playing with house money." Neither is appropriate. The correct play does not change whether you are ahead or behind today.
In one respect, this is the opposite of what Tiger Woods faces. On the last hole of a tournament, if he is one stroke behind, he might take extra chances for a birdie in order to catch up. Or if he is a few strokes ahead on the last hole, he might play extra cautiously in order to preserve the lead. This is VERY appropriate for him, but not at all appropriate for a video poker player.
Even with this last exception, using Tiger Woods as a model is useful. Success for most endeavors has a lot in common. People who have the same habits as the experts (in terms of preparation, nose to the grindstone, attention to detail, etc.) tend to do well. People who tend to treat things with a much more casual attitude don't do so well.