Smarter Bet Guide to Slots and Video Poker
by Basil Nestor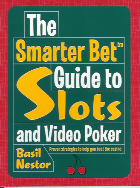 A pocket-sized book that provides a clear-cut explanation of payback comparisons, progressive jackpots and how to evaluate them, video poker strategy tables, and other mathematically derived techniques to lower the casino advantage.
Great Video Poker at Club USA Casino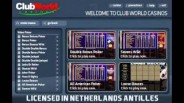 Club USA Casino offers a huge variety of video poker machines in a range of denominations. There over 14 different video poker games including Deuces Wild, All American Poker, Jacks or Better, Joker Poker and more. Many are available in multihand video poker format. Coin-in choices range from $.05 to $5.00 on single hand machines and $.01 to $1.00 on multi-hand machines.

BVS Video Poker
You can download the latest version of the BVS Video Poker training software, find product news, and read testimonials from satisfied customers at the BVS Video Poker website. BVS also produces excellent solitare software that is available for download.
Q I've been playing
jacks-or-better
video poker regularly for the past seven years and have never hit a royal flush. What's up with that? I admit that my play is conservative. I concentrate on

Basil Nestor is the author of the new Playboy Complete Guide to Casino Gambling. This wonderful book teaches players how to avoid sucker bets and win more when playing gambling games. He is also the author of The Smarter Bet Guide series for video poker, slots, craps, and many other books about gambling. Basil's website is www.smarterbet.com
holding high cards even when the combination won't make a royal, but if I don't go for those possible high pairs then the game would bankrupt me. What is happening? Am I just unlucky
A Forget the rabbit's foot. It's not a shortage of luck, but a lack of optimal strategy that is costing you royals. What is optimal strategy? It's a method of playing video poker that mathematically maximizes the probability of hitting ALL the paying hands. I know you're not using optimal strategy because you mention holding "high cards even when the combinations won't make a royal." That is often an incorrect play.
Optimal strategy varies depending on the game (jacks-or-better,
deuces wild
, joker poker, and so forth.), but two-card royals are generally much better to hold than three or four high cards. That's just one example of optimal strategy. You're missing many more valuable combinations.
For example, a major part of video poker's payback comes from trips, full houses, and quads. Most of those paying hands will never appear unless you properly holds low pairs over non-paired high cards. Optimal strategy produces quads about once every hour on a single-hand 9/6 jacks-or-better machine. That's a nice 125-credit payoff when wagering maximum credits. Mini-jackpots like that keep your
bankroll
from withering. This allows you more opportunities to shoot for the big royal.
Consider this hand:





You should hold the low pair. The long-term value of holding the pair is almost twice as high as the value of the three high cards.
Here's another example:





You should hold the queen and jack (two-card royal); drop the ace, 10, and 5.
Here's a tricky one:





You should hold the three-card royal; drop the king and 4.
Keep this in mind. A royal flush usually appears about once in every 40,000 hands when a player uses optimal strategy. It takes about 100 hours of single-hand video poker to play 40,000 hands, or about 25 hours if you're playing four-handed. You told me that you've been playing "for the past seven years." Let's say you played two days per month (four hour per day, single-hand games). That's 672 hours. You probably have missed about six royals, or $24,000 on $1 games, $6,000 if it was quarters. And that's just lost royals. Think of all the other paying hands you may have missed.
Let's end the drought. It's time for you to hit a royal.
You'll find optimal strategies for video poker and more money-saving tips in The Smarter Bet Guide to Slots and Video Poker. Good luck... or better yet... good strategy!