Winner's Guide Volume 3: Full Pay Deuces Wild
by Bob Dancer

From the authors of the best-selling video poker strategy cards, the Video Poker Winner's Guides cover both strategy and non-strategy aspects of play that are important for winning. Choose among four levels of strategy, via the presentation and explanation of basic principles. Strategies for full-pay as well as the more widely available non-full-pay versions are covered. These reports present the most complete and accurate strategies available for these games.
Read a review of Winner's Guide Volume 3: Full Pay Deuces Wild
Online Multi-Hand Video Poker!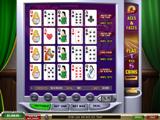 Casino Tropez has multi-hand video poker and it comes in a number of flavors. You can play 4 or 25 hands Aces & Faces, 4 hand Jacks or Better and Deuces Wild or the 10 hand Jacks or Better progressive. The best deal for multi-hand play is the 4 hand Aces & Faces which has a great 99.3% return. If multi-hand video poker is your thing, try you hand today!
One of my students told me she had never liked mathematics or been particularly good at it. She asked me if that would hinder her success at video poker. After considering this question at some length,

Bob Dancer is one of the world's foremost video poker experts. He is a regular columnist for Casino Player, Strictly Slots, and the Las Vegas Review-Journa land has written an autobiography and a novel about gambling. He provides advice for tens of thousands of casino enthusiasts looking to play video poker. Bob's website is www.bobdancer.com
I told her that I believed that mathematically-challenged players rarely get very good. This answer surprised both of us. After all, the math at video poker isn't very difficult. But it's a winning player's constant companion. Let me give some examples of how I use numbers regularly.
a.
Pay schedules
are important. The difference between receiving 9 per coin for a flush compared to 8 per coin is worth $30 an hour or so. This isn't difficult, but it is important.
b. Each game has an optimal return. To decide which game to play you need to know the returns of the top two or three games at each of the casinos you frequent. Using
WinPoker
to figure this out is easy enough, and it's acceptable to write down these numbers and take the list with you, but you need to have this information at your fingertips.
c. Each
slot club
has a different amount of cash back. Casinos rarely tell you that their club returns a half percent. What they tell you is that it takes $5 to earn a point and for every thousand points they'll give you $25 in cash. Can you determine whether that gives you an advantage if you are playing a game that returns 99.73% to start with?
d. If four sevens pay an extra 100 coins, can you figure out what that adds to 8/5 Bonus Poker? How much is a 4000-coin bonus for a royal in diamonds worth? Is that worth more or less than double points at the casino next door?
e. If you get a scratcher for every 4-of-a-kind, and figure each scratcher is worth $2 on average, can you determine what that adds to the game?
f. If the casino doesn't offer cash back, but will send you six
bounceback checks
for $50 if you play $80,000 per month, can you determine how much that is worth and figure out how much play it will require?
g. One casino is giving away a car and another is giving away $25,000 in cash --- and the drawings are at the same time. Can you read the rules and figure out which of the two provides you with a better opportunity?
h. On progressives, can you figure out how high a royal on 9/7
Double Bonus Poker
has to be before the game returns 100%?
You get the idea. Using simple math is very important to determine WHICH GAME is best to play NOW. If you ALWAYS play one particular machine at one particular casino you don't need to worry about these things, but players who do this are rarely winners. Casinos are always competing with each other trying to get you to come in and play. Sometimes one casino offers the best deal. Sometimes it's another casino. Figuring out which casino offers the best play this week is part of the game.
My experience is that players who are good at math make these calculations almost subconsciously. It isn't that difficult to put things into numerical context if that is your frame of reference. Players who aren't good at math tend to avoid these calculations altogether. In general, people who aren't good at something tend to rationalize that being good at it isn't important.
Can someone who hasn't been very good at math turn it around and become good at video poker? Of course. But it will require a sustained effort. How badly do you want to win?