Smarter Bet Guide to Slots and Video Poker
by Basil Nestor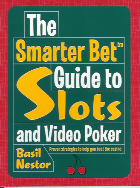 A pocket-sized book that provides a clear-cut explanation of payback comparisons, progressive jackpots and how to evaluate them, video poker strategy tables, and other mathematically derived techniques to lower the casino advantage.
Casino Tropez Video Poker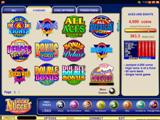 Casino Tropez offers 14 popular video poker games including Jacks or Better, 10s or Better, Deuces Wild, Joker Poker, and Aces & Faces. Multi-hand games of 10, 50, or 100 hands are included for Jacks or Better, Bonus Poker and Deuces Wild and more... For progressive action there's SupaJax and Jackpot Deuces Poker. The best deal is the 9/6 Jacks or Better with a return of 99.5%. For variety and good payback, online video poker is a good bet!
Q During a recent casino trip I wanted to try something different, so I switched from blackjack to video poker. I was playing a one-dollar machine, five hands at a time, maximum credits ($25 per bet).

Basil Nestor is the author of the new Playboy Complete Guide to Casino Gambling. This wonderful book teaches players how to avoid sucker bets and win more when playing gambling games. He is also the author of The Smarter Bet Guide series for video poker, slots, craps, and many other books about gambling. Basil's website is www.smarterbet.com
My $500 bankroll didn't last long. I was surprised how fast the money disappeared compared to blackjack. Was I unlucky, or is video poker always like this?
A As you have discovered, video poker is a much more volatile game than blackjack. This is primarily due to the fact that video poker has large jackpots. The big prizes are created by taking money from smaller wins, and that causes big swings in a typical bankroll. Let's look at one particular video poker version, jacks or better 9/6, and you'll see how the process works.
Remember that video poker keeps your bet when you lose, but the machine also keeps your bet when you win a hand, so a one-credit win is actually a push.
55% of hands are losers.
21% of hands are single-credit "winners" returning only the original bet.
This is a push (a tie).
13% of hands win exactly two credits per unit wagered.
This is a 1:1 payoff.
11% of hands return more than two credits.
Less than 3% of hands return six credits or more.
(Average results for a single hand after the draw when using optimal strategy)
Most video poker hands are losers, and losers outnumber winners by a two-to-one margin. The win-lose imbalance is offset by big payoffs for quads, straight flushes, and royal flushes, but it's still a recipe for going broke unless you have staying power. A player needs a session bankroll of at least 150 to 200 bets to withstand the inevitable losing streaks between jackpots. In your case that would be at least $3,750 when betting $25 per trial. You were playing with $500 (only 20 bets), so your bankroll did not provide enough "wiggle room" for the natural ebb and flow of the game. One option is to increase your bankroll; another alternative is to wager in smaller increments. For example, playing single hands on a dollar game ($5 per bet) would be somewhat better for a $500 bankroll. Single or multiple hands on a quarter game would be ideal.
And of course, optimal strategy has an effect on winning and losing. Were you using optimal strategy? If you weren't, then I have some wonderful money-saving news. Optimal strategy is a method of playing video poker that mathematically maximizes the probability of hitting all the paying hands, and it can dramatically increase your chances of making a royal flush. You can learn this video poker strategy right here at ReadyBetGo!