The 1970's were a groovy and exciting time. Fashion was dominated by bell bottoms, platform shoes and tight-fitting polyester. Disco was the defining sound of the era and the first versions

There are occasions when we here at ReadyBetGo want to bring you interesting facts about the gambling industry When something catches our eye, we will publish it for your enjoyment.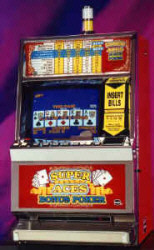 of personal computers were starting to emerge. It was this advancement in technology that combined a solid state central processing unit with a TV-like monitor, which allowed engineers to build the first video poker machine during the mid-1970's.
Si Redd - The Godfather of Video Poker
Si Redd was a distributor of slot machines for the Bally Gaming Company. He pitched the idea of a new electronic version of Draw Poker to Bally Gaming executives, but they weren't interested in the new invention he called 'Video Poker". He did, however, convince them to let him take the patent on Video Poker machines, and within months formed his own company known as SIRCOMA, an acronym for Si Redd's Coin Machines.
The first commercial Video Poker machine, SIRCOMA's Draw Poker, was released in 1979. It was a basic five card draw which featured the lowest possible hand of two pairs. The machine allowed players to see their cards displayed on the screen and to use the simple console to fold, draw, raise or call.
The Video Poker machines that SIRCOMA had the patent for were produced on a large scale and although it took some time for the public to take note, by 1981 it became one of the most popular machines found in casinos and gaming venues.
Video Poker Today
Today's Video Poker machines have certainly come a long way from their rudimentary predecessors. Players can find a vast selection of Video Poker games at almost every land based and online casino, and new and entertaining versions of the game continue to be released. The traditional Jacks or Better game, where the player needs a pair of Jacks or better to win remains a firm favourite, but there are well over 40 different variants available.
Modern variations of the game include Joker's Wild, in this adaption of video poker the Joker or deuce become the player's best selection of cards. You'll find bonus games where certain card combinations win you a special payout as well as multi-line video poker games.
One variation that has seen massive popularity are Video Poker games that feature progressive jackpots. In these games, a small portion of each player's bet gets added into a collective prize pool that is triggered when one lucky player lands the ultimate winning combination. As the jackpot pool is networked, the payouts are greater than a single machine could ever offer.
The Rise of Online Video Poker
More and more Canadian players are choosing to skip out on the drive to their nearest Video Poker machine, and are choosing to play online Video Poker instead. Visiting an online casino and playing Video Poker is as simple as picking up your smartphone or tablet, or starting up your PC.
Online gaming has made accessing Video Poker incredibly easy and offers players a huge selection in terms of variety and betting action. Players also benefit from the availability of online games that offer high-quality graphics, intuitive user interfaces and entertaining gameplay.
It's safe to say that the future of Video Poker looks bright and that this game will keep on thrilling players across the globe.