WinPoker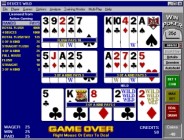 WInPoker Video Poker simulator has been helping players improve their play for a number of years. Version 6.0 is now available and offers a wealth of features including play evaluation, hints on which cards to discard, detailed statistics, and difficult hand samples. Most video poker variations are represented. A shareware version is available for evaluation.
Read a review of WinPoker
Break Away Slot is an adreniline rush!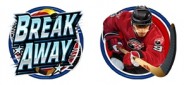 Break Away is an adrenaline-fueled hybrid style 5 reel, 243 ways to win, video slot that puts players right in to the midst of a thrilling ice hockey game. Players must take to the ice to smash, crash and compete their way to big cash prizes and sporting glory.

Video Poker Player
The home of Skip Hughes' Video Poker Player. The website offers free sample issues, a complete index of all articles going back to April 1999, and ordering information.
Continually finding new subjects to write about is a constant challenge for me. After all, I've been writing
video poker
columns for years and I no longer have a reservoir of untapped ideas. So

Bob Dancer is one of the world's foremost video poker experts. He is a regular columnist for Casino Player, Strictly Slots, and the Las Vegas Review-Journa land has written an autobiography and a novel about gambling. He provides advice for tens of thousands of casino enthusiasts looking to play video poker. Bob's website is www.bobdancer.com
partly looking for inspiration for an article or three, I was recently rereading Mason Malmuth's "
Gambling Theory and Other Topics
" (Two Plus Two Publishing, 1999).
One of Malmuth's recurrent themes is that the bets of winning gamblers are not always the same size. In
blackjack
, backgammon, sports betting, and live
poker
(the games Malmuth examines most closely), one secret of winning is to identify the situations where the player has a bigger-than-average advantage and to bet more in that circumstance.
When I read this, I immediately concluded that this isn't true for video poker. For any given machine, our bet is a constant "max credits." I found this interesting. This might be the major difference between
gambling at video poker
and gambling at other beatable games.
This article isn't about chastising Malmuth for making a mistake. He wasn't considering video poker when he made the argument, and in general, I find his conclusion correct. And interesting.
In video poker, the big choice is whether to play a specific game at all. But once we make that decision, we bet the max. In most cases the only way to increase your bet is to increase your stakes -- say from quarters to dollars. Another way is to go from a single line machine to a Triple Play machine. In a few casinos the best games may be found in more than one denomination, but in general this is not the case.
There are at least two
video poker games
, namely Fifty Play and Hundred Play, where you have a large choice of bet sizes. On these machines, you may bet 5 coins, 10 coins, 15 coins all the way up to max coins and still get the full value for the royal. There may be bankroll considerations that lead you to make one sized bet over another, but it's hard to come up with an intelligent reason for betting 10 coins this hand, 35 next time, 125 the next, 65 after that, etc.
Actually, there is at least one strategic reason for changing your bet on this type of machine, and that's for camouflage purposes when you're being watched by casino executives. Many casinos are now at least occasionally excluding advantage video poker players, so if you can convince them you are really a superstitious gambler, your playing days might last a little longer. Since betting like described above makes you look like a superstitious idiot, but really has essentially no cost (other than time lost) because all 5-coin-per-line bets have the same percentage return, it might be strategically beneficial at times. Especially if you add some ridiculous explanation like, "when these machines give me an even number of full houses on a given play, I always cut back because I know from experience that the machine punishes me after that. But for some reason, after an odd number of full houses, it's okay to increase my bet. Fortunately for me, the machines haven't caught on to my secret yet." If you can manage the above quote with a straight face, you DESERVE to keep winning.
Without the off-the-wall exception listed above, standardization of bet size is a trait of
winning video poker
but virtually no other gambling game. Does this make video poker a BETTER game? Maybe not. But it DOES make video poker an EASIER game. I've played both backgammon and blackjack at a professional level, and, for me anyway, video poker is much easier. And I don't attempt sports betting or live poker because I believe they are much too difficult.