More Sex, Lies and Video Poker
by Bob Dancer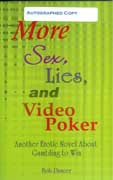 Second in the series of Dancer's video poker fiction, this is an intricately plotted erotic novel filled with the shrewd thinking and elaborate schemes of winning gamblers. It's a fast-moving and insightful book about winning at video poker. It's also about Vegas, baby! Chris is in love with Annie, but Maria wants Chris for an occasional sex-with-no-strings fling. Maria is the mistress of high roller Jimmy, who had a recent affair with Meg, Chris's sister-in-law. Meg's husband Richard, meanwhile, is pursuing Maria, whom Jimmy wants to trade with him for another crack at Meg. The whole ménage is lubricated with alcohol, abetted by guns and martial arts, and inhabited by people willing to lie to those closest to them in order to reach their goals.
Break Away Slot is an adreniline rush!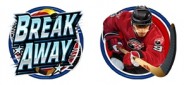 Break Away is an adrenaline-fueled hybrid style 5 reel, 243 ways to win, video slot that puts players right in to the midst of a thrilling ice hockey game. Players must take to the ice to smash, crash and compete their way to big cash prizes and sporting glory.
I've been writing about video poker for seven years. So far, most of my writing has been non-fiction. Some have been highly technical articles on how to play the hands. Some of it has been about the

Bob Dancer is one of the world's foremost video poker experts. He is a regular columnist for Casino Player, Strictly Slots, and the Las Vegas Review-Journa land has written an autobiography and a novel about gambling. He provides advice for tens of thousands of casino enthusiasts looking to play video poker. Bob's website is www.bobdancer.com
philosophical aspects of winning. And some have been slightly-fictionalized true-life adventures of what has happened to Shirley and me while playing video poker.
"Sex, Lies, and Video Poker" is very different. Here we have totally fictional characters that live in Southern California, who take monthly trips to gamble in real Las Vegas casinos. Although there is some blackjack action at the Luxor and the Mirage, most of the gambling action is video poker and takes place at the Golden Nugget during slot tournament weekends. You could call it historical fiction, I suppose, except it takes place from November 1999 to April 2000. Is there a contemporary historical fiction category?
Insofar as
video poker information
goes, this book describes the winning process in greater detail than I've ever described it before. The female lead, Annie, is a brilliant computer programmer and she teaches her boyfriend, Chris, about the winning process. Chris isn't so mathematically inclined, so Annie needs to spell it out. Annie dissects the Golden Nugget slot club of the time. It's quite a bit different than the current Golden Nugget club, but it's easy to apply what she teaches to the current 24 Karat Club. Many gamblers can benefit by applying the lessons Annie teaches.
Chris needs to
learn 9/6 Jacks or Better
from scratch in this book. You'll watch him as he struggles and how he surmounts the problems he encounters. You'll learn various advanced features in
WinPoker
that help him learn. 9/6 Jacks or Better may not be a game you particularly care about, but someday you'll want to learn a new game and do it intelligently. Doing it the same way as presented in the novel is a way that works well.
And then there's the "sex" word in the title. I've long felt that I could write more interesting sex scenes than are found in most novels. I think I've succeeded here, but others will have to be the judge of that. (A few of the scenes are semi-autobiographical, but Shirley made me swear that I wouldn't say which ones.) There's nothing too far out. It's good fun heterosexual activity between consenting adults. The severely prudish will be offended, I suppose, but most of them wouldn't be reading a book about casino gambling anyway.
Shirley and I make cameo appearances in the novel. (You'll be happy to learn that we stay fully dressed.) I've been criticized by some that including myself in a work of fiction is highly-egotistical. I plead guilty. But Shirley made me do it. The awards banquets at the slot tournaments described in the book included a dance floor and our favorite dance band. Shirley wouldn't let me write about it unless I took her dancing at them!
The master of ceremonies at two of the tournaments is Kelly Flynn, the king of the slot emcees. He used to be the emcee at many casinos around Las Vegas, but now he's primarily found at the Golden Nugget, Harrah's, and the Rio. He dresses outrageously at the events and comes up with numerous one-liners. Kelly is in fine form in the book. At the start of a tournament session, for example, he tells the contestants that in the unlikely case of a machine malfunction, look at the score of the player on your right and the player on your left. Whoever's score is higher, knock them off their chair and take over their machine. After everyone laughs, of course, Kelly gives them the correct information which is raise their hands and somebody will be over to fix the problem.