Video Poker for the Intelligent Beginner
by Bob Dancer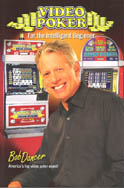 Focuses on important steps to winning such as how to choose the right machine and the correct way to evaluate slot clubs and promotions. The book breaks down into three categories: No Wild Cards; Deuces Wild variations and Joker Wild variations with almost three dozen games under scrutiny starting with Jacks or Better and Bonus Poker and moving on to Double Bonus, Triple Bonus Poker Plus, Double Double Bonus, Royal Aces Bonus, Double Deuces, Loose Deuces, Deuces Bonus and numerous Joker Wild variations. 237 pages, paperbound. 2009.
Read a review of Video Poker for the Intelligent Beginner

Play Free Multi-Strike Poker!
Leading Edge Design, the creators of Multi-Strike Poker have a Flash version of the game at their website whether you want to practice or just want to have fun. There's even a high score table if you really hit some great hands.
Play the New Elvis Multi-Strike Video Slot!
You can now play the new Elvis Multi-Strike Video Slot for fun right on your computer. Check out all entertaining features, listen to some great music and have a blast with this exciting video slot.
Multi Strike Poker by Leading Edge Designs is a 4-line game that's a lot of fun. The game has won a number of new product awards. One try, and you'll see why. In this article, Bob Dancer explains

Bob Dancer is one of the world's foremost video poker experts. He is a regular columnist for Casino Player, Strictly Slots, and the Las Vegas Review-Journa land has written an autobiography and a novel about gambling. He provides advice for tens of thousands of casino enthusiasts looking to play video poker. Bob's website is www.bobdancer.com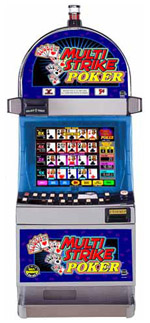 You can practice Multi-Strike Poker on Bob Dancer's Video Poker for Winners! how the game works.
To start Multi Strike Poker, the player wanting to play with the best odds bets on all four lines -- that is 20 coins. On the bottom line, he is dealt a video poker hand and he plays it. If he loses the hand, the game is over and all 20 coins are gone.
If the player wins the hand -- that is, at least gets his money back -- he moves on to the second line and plays another hand. Since he's only going to get to play the second hand about half the time, the game doubles all wins on the second line. Losing on the second line ends the game, but the player still keeps what he won on the first hand. If the player wins on the second line, he gets to play the third line where all returns are quadrupled. Winning on the third line entitles the player to play the fourth (i.e., top) line where the returns are octupled -- or whatever the word is meaning multiplied by eight.
Sometimes you get a "Free Pass," which is announced clearly before you play a hand. When you get a Free Pass, you get to go to the next round whether you win the current round or not. How often the Free Pass occurs depends on the pay schedule of the game you are playing and even which line of play you are on. The Free Pass is designed to occur frequently enough so that the Multi Strike Game, when played perfectly, returns approximately .15 percent - .25 percent more than the base game. For example, 9/6 Jacks or Better played normally returns 99.54 percent. 9/6 Jacks Multi Strike returns 99.79 percent.
NSU Deuces Wild
(normally worth 99.73 percent) returns 99.92 percent in its Multi Strike version.
There are a more Multi Strike game/pay schedule combinations than you can shake a stick at. Okay, there are 60 of them, including 33 that return more than 98 percent with optimal play. For a complete list of these 33 games and their returns, see my article cited in
www.ledgaming.com
. Each line of each game requires a different strategy, so nobody possibly knows every game. And learning a strategy for a game before you find which particular pay schedule is available where you play isn't a smart idea either.
Using regular
video poker strategy
doesn't work real well on Multi Strike. The reason is simple. In regular video poker, every hand stands by itself. In Multi Strike, if you win the current hand, you get another hand, at twice the rewards as now, AT NO ADDITIONAL COST. This is something that has real value, and fortunately a value that is easy to approximate. And if you have two or more potential rounds, each being doubled, and each at no additional cost, it is worth more to you than if you only have one such round.
To approximate how much this additional-hand-at-twice-the-return-with-no-additional-cost is worth, we add 6 to every element in the pay schedule for Line 1, we add 4 to every element for Line 2, and we add 2 to every element for Line 3. Consider the following chart:
Level 4 /
Level 3
Level 2
Level 1
Free Pass
Royal Flush
800
802
804
806
Straight Flush
50
52
54
56
4 of a Kind
25
27
29
31
Full House
9
11
13
15
Flush
6
8
10
12
Straight
4
6
8
10
3 of a Kind
3
5
7
9
Two Pair
2
4
6
8
Jacks or Better
1
3
5
7
Level 4 (or when you get a Free Pass) is exactly the normal
9/6 Jacks or Better
when we assign the royal flush its per coin amount when maximum coins are played. To play these hands properly, you play normal
9/6 Jacks strategy
. Looking at the numbers, it is easy to see how we add 2 for Level 3, 4 for Level 2 and 6 for Level 1.
When we enter these new numbers into
Bob Dancer Presents WinPoker
and start to play some hands, we notice a lot of strange plays. On a Level 1 hand like Kh Js 5d 5c 3h, for example, the correct play is KJ. That seems odd because the high cards are unsuited and we have a low pair. What gives? Drawing to the pair we end up with nothing 71 percent of the time. Drawing to the two high cards, we end up with nothing "only" 62 percent of the time. Although the hits are GREATER IN VALUE when we draw to the pair (because, after all, most of the hits are two pair or 3-of-a-kind returning 10 coins or 15 coins respectively compared to most of the hits drawing to the two high cards are "jacks or better" returning 5 coins), they are LESS FREQUENT. Since there is a big bonus to moving up to the next level, and the size of the bonus is the same no matter how much we collected on the first round, we gladly make that trade off.