Video poker is one of the exciting casino games where strategy and skill can turn the odds in your favor. You can employ successful strategies to improve your odds of winning big, and the best part

There are occasions when we here at ReadyBetGo want to bring you interesting facts about the gambling industry When something catches our eye, we will publish it for your enjoyment.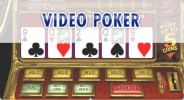 Video Poker Screen is that they're in your control.
We'll look at the value of pay tables and learn how capitalizing on promotion days can turn a fun gambling experience into a great one. Lastly, we'll highlight the importance of holding onto low-scoring hands in pairs to turn the odds in your favor.
Playing Smart: Leverage Pay Tables To Win More
Always check the pay tables. The fact that video poker gives you an accurate breakdown of how much you'll win is one of its advantages.
Since one fifty-two-card deck is necessary for video poker, a casino can only alter the return by adjusting the amount it pays you for each successful hand. Finding the best pay table for your game should be your priority.
If you're a Jacks Or Better player, the best pay table you'll find is nine-six. It returns nine coins for a full house and six for a flush. With a good strategy, you'll receive a return of 99.54%.
Casinos will then lower amounts to 8-6, 8-5, 7-5, and 6-5, resulting in an overall 1.1% less payoff on that machine. So you want to ensure you spend time playing the most optimal game by checking the pay table.
Get More: Promotions Enhance Your Video Poker Success
Many casinos will have days where they give you double points or award you prizes for getting a certain amount of points. It's possible to bonus or gain entry into a pokies online NZ tournament, where you can't lose anything but still win big.
Playing on days with promotions is much more fun because you get your money's worth. These benefits are great for helping you offset your losses and bring you closer to the black.
Value in Pairs: Holding Low Pairs Is Strategic
It's smart to keep a low-scoring hand when they're a pair. It's always better to work with what you have rather than want. Otherwise, you'll risk losing everything by discarding a low pair to pursue a possibility that may or may not come to pass.
This way, you improve your chance to win big by pouring your resources into a sure thing. Remember, it's more fun to win regularly than to win once occasionally.
Conclusion
Examine your pay tables carefully to identify the most favorable game with the highest payout return. Playing on promotion days adds another lay of excitement and adds value to your time through bonuses and rewards. When you have low-scoring hands that form pairs, holding onto them can prove more fruitful than chasing another potential.