RICHLAND COUNTY, North Carolina - As reported by the The State: "Richland County Master-In-Equity Joseph Strickland won't reconsider his Dec. 13 ruling that video poker is legal on the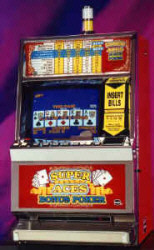 Catawba Indian reservation in York County.
"The state had asked Strickland to reconsider his ruling.
"State Attorney General Henry McMaster, who attended the hearing Friday but did not argue the case before the judge, said afterward that his office would appeal the ruling to the state Supreme Court.
"'We believe the judge misconstrued the language of the law,' McMaster said.
"A 1993 settlement between the state and the tribe allows video poker on reservation land, despite a statewide ban on the games since 2000, Strickland said in his Dec. 13 ruling.
"The federally recognized tribe has threatened to open a video poker operation if the state doesn't let it operate a bingo hall at Santee, in Orangeburg County, off Interstate 95.
"That operation would be linked electronically with other tribes' games and offer jackpots of more than $100,000. The tribe's bingo hall in Rock Hill can offer jackpots of no more than $100,000 under the 1993 pact.
"The tribe says it needs high-stakes bingo because the state-run lottery, which began in 2002, has reduced revenue at its existing bingo hall…."