Break Away Slot is an adreniline rush!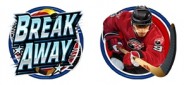 Break Away is an adrenaline-fueled hybrid style 5 reel, 243 ways to win, video slot that puts players right in to the midst of a thrilling ice hockey game. Players must take to the ice to smash, crash and compete their way to big cash prizes and sporting glory.
Lottery Forces Out Video Poker
Tuesday, November 22, 2005
Gov. Mike Easley says video poker is on the way out as a state lottery comes in. He should help the process along by proposing a ban on video poker. Otherwise, his prediction is shaky.

"I think you're going to find that the lottery will pretty much do away with the video poker industry," the governor said at a recent news conference. "I think it's likely that you're going to see all the retailers opt for the lottery, and I think you're going to see consumers opt for the lottery."

Raids across the state have resulted in dozens of charges, mostly from video poker machines at convenience stores and bingo halls. Despite this effort at enforcement, operators continue to break the law.

Easley hinted that the lottery commision might not allow lottery tickets to be sold at location which also operate video poker machines. The commission disagrees, saying it has no authority to regulate video poker.

Will gamblers suddenly quit when they can buy lottery tickets, too? That's doubtful. So far, lawmakers have resisted taking any action to curtail video poker, perhaps because video poker operators have made large campaign contributions to powerful legislators.

The game is changing, however. South Carolina banned video poker after it started its lottery, and for a simple reason: competition. The closer the state can come to establishing a gambling monopoly, the more money it's likely to make.

So the state's best bet will be to follow South Carolina's play and outlaw video poker altogether. It will require a large dose of hypocrisy to argue that video poker is such a socially unacceptable vice that it must be eradicated while state-sanctioned gambling is good public policy, but that's easy for politicians who say they're doing it all for the kids.