TRAPPE, Maryland -- Raymond Clarke shares his experiences and strategies for playing
video poker
and enjoying time spent in the casino in his new book, "Your Winning Strategy to Video Poker: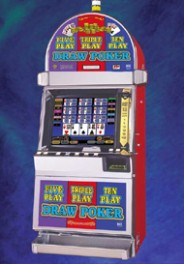 Action Gaming's Triple Play machine offers Super Aces
The Alternative to Slots" (now available through AuthorHouse).
Clarke was introduced to video poker while on a cruise with his wife. When he played, he found that the time flew by even though he was spending very little money, and he's been hooked ever since. "Video poker is similar to slots in that the game is intimate, but video poker engages the gambler versus watching three or more drums spin around with the hope for a winning combination," he says.
This book walks the reader through a planning process prior to entering a casino, including a pre-game warm-up where the gambler establishes a time limit for playing video poker. While three hours is the maximum Clarke recommends anyone play for a single stretch of time, he likes to limit his gambling to 40 to 50 minute sets with five to 15 minute breaks in between. "This allows me time to clear my head and refocus," he says. "Pulling yourself away from a machine after 40 to 50 minutes when you are ahead tends to help you win."
Clarke explains the different types of video poker games and provides simple strategies for "
Jacks or Better
" and "
Deuces Wild
," consistently reminding the reader throughout the book that gambling is entertainment, and therefore should be fun and relaxing. "If it's stressful, it's not entertainment, but work," he says.
One strategy Clarke recommends for keeping the fun in gambling is to buy stock in the casino that one chooses to gamble at, so that even losses turn into wins in the long run. "To this day, my losses do not exceed the dividends that I receive on a quarterly basis, and with the unrealized capital gains that I have accumulated in the stock, I will continue to enjoy video poker for years to come."
Clarke graduated from the University of Texas at El Paso with a bachelor's degree in metallurgical engineering, and earned a master's degree in environmental engineering from the University of Maryland at College Park. He is a registered professional engineer in the state of Maryland, where he lives and works as an environmental engineer to improve the water quality of the Chesapeake Bay and its tributaries. Clarke and his wife enjoy visiting casinos in Nevada and on cruise ships, and after a hard day at work he likes to relax at Dover Downs playing video poker. "Your Winning Strategy to Video Poker" is his first book.
AuthorHouse is the premier publishing house for emerging authors and new voices in literature. For more information, please visit www.authorhouse.com.