The Unofficial Guide to Casino Gambling
by Basil Nestor

Basil Nestor incorporates decades of gambling knowledge to give the reader insight into probability, common gambling mistakes, and winning strategies in his popular book, The Unofficial Guide to Casino Gambling. Covering all the bases of casino gambling including machine games (slots and video poker), table games (blackjack, roulette, craps, baccarat, poker), and waiting games (keno and sports betting) the book also has sections on how to get casino comps, gambling systems, a history of gambling in the US, and much more.
Club USA Casino Roulette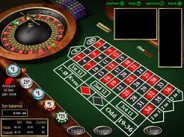 Roulette at Club USA Casino is an elegant affair. The table is double-zero and includes a repeat function and history meter. The sound and graphics are pleasing. The table minimum is $0.25 and maximum is $100.
Q I'm new to gambling, been playing about two months and just
learning roulette
. I have come across an interesting gambling system to help me win. The seller promises to give me my money back in

Basil Nestor is the author of the new Playboy Complete Guide to Casino Gambling. This wonderful book teaches players how to avoid sucker bets and win more when playing gambling games. He is also the author of The Smarter Bet Guide series for video poker, slots, craps, and many other books about gambling. Basil's website is www.smarterbet.com
30 days if I'm not satisfied. With the refund policy, it should be a slam dunk. What do you think?
A I think you should ask the seller the following questions:
When using this system, what is your exact edge when measured as a percent of the base bet? How is this edge calculated? Has the system been tested over at least one million trials? Has this system been independently reviewed?
Get these answers before buying anything. Don't rely on a money-back promise.
Personally, I would want proof that the system works. What kind of proof? Let's use examples from my books. We'll begin with
slots
and
video poker
, and then move on to
roulette
.
On page 46 of The Smarter Bet Guide to Slots and Video Poker I write, "Quarter slots are tighter than dollar slots. Dollars are tighter than five-dollar games and so on." Then I prove it mathematically in the chart on page 45. Those numbers are verified by government regulators, and they reflect billions of spins. Similarly, on page 102 I show that "full-pay" deuces wild has a long-term payback of 100.6 percent. Again, the numbers have been tested and independently verified over billions of trials. Those are just two examples in a book that runs 128 pages.
So when I tell you to hold a two-card royal over three high cards in
9/6 jacks-or-better video poker
, my advice is based on a verified mathematic calculation. The strategy is designed to bring you the greatest long-term profit.
Now let's consider roulette. On page 256 of Playboy Complete Guide to Casino Gambling I write, "Surrender [which is a roulette betting strategy] cuts the house edge down to 2.63 percent."
Then I explain wheel bias, and I give you a system for exploiting it. It's called wheel clocking. All of these strategies are based on concrete math.
A good gambling system should be transparent and predictable over the long term. Sadly, the roulette system that you are considering doesn't seem to have any of these qualities.
Save your money. There are better roulette strategies out there.