Some of the biggest roulette wins have come using the simplest approaches – computer programmer Chris Boyd won a fortune by betting $220,000 on red.
But if you want to increase your chances

There are occasions when we here at ReadyBetGo want to bring you interesting facts about the gambling industry When something catches our eye, we will publish it for your enjoyment.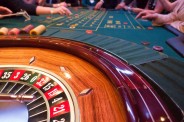 of winning in the long-run it helps to put some thought into what you're doing, which is why it helps to have a betting strategy.
From the Martingale system to the D'Alembert approach, I've listed three ways you can bet on roulette.
Recommended reading: Roulette Odds differences in USA and Europe
Martingale system
Roulette has many different strategies that players use to improve their chances of winning, but few (if any) are as popular as the Martingale system. The principle is very straightforward – each time you lose you double your previous bet, continuing this approach until you win back your loses and make a profit.
The Martingale system is generally used for outside bets in roulette. These are the betting options on the outside of the table and offer odds of 1 to 1 (evens). You can place the following outside bets:
Column bets: You bet on a column of 12 numbers
Dozen bets: You wager on a box of a dozen numbers
Colour bets: You gamble on hitting a red or black
Odds/evens bets: You bet on either hitting an odd or even number
Low/high bets: You wager on numbers 1-18 (low) or 19-36 (high)
Roulette gamblers favour the Martingale system because it offers a good chance of making short-term wins. It's also a very easy strategy to understand, as there is a clear progression to your betting.
Fibonacci system
Because roulette is a game that's based on chance, it makes sense to use a safe strategy when you're placing your bets – after all, you don't only want to increase your chances of making wins, you want to reduce your chances of making losses. The Fibonacci system is considered one of the safest strategies for roulette and you can use it right now.
The Fibonacci system follows the Fibonacci sequence. This is a series of numbers where the total of a number is the sum of the two previous numbers – it goes 0, 1, 1, 2, 3, 5, 8, 13, 21 and so. You use this strategy by starting at the beginning of the numbers and continuing to wager on the Fibonacci sequence until you get a winning bet.
D'Alembert approach
Progressive betting strategies are common in roulette and the D'Alembert approach is one of the best that you can use right now. The idea is that you have pre-determined units for betting and that these dictate the bet you place – add a unit when you lose, take a unit away when you win.
To get the most from the D'Alembert approach you should place bets where you have an even chance of winning. There are three main types of wager in roulette that have odds of 1 to 1 and they're all outside bets:
High/low: European roulette odds (48.60%); American roulette odds (47.40%)
Black/red: European roulette odds (48.60%); American roulette odds (47.40%)
Even/odds: European roulette odds (48.60%); American roulette odds (47.40%)
One of the reasons that the D'Alembert approach is a common strategy is that you set the units of betting in accordance with your bankroll – this means it caters to all types of roulette gambler.
While these are three very popular and respected strategies for betting on roulette, the thing you must keep in mind is that roulette is a game of chance – so if one of these approaches works the first time you try it, that doesn't mean it will do the next time around.