Roulette is considered one of the most popular casino games of all times. Despite this many people play it without much thought to how to win properly. Online Roulette adds the computer

There are occasions when we here at ReadyBetGo want to bring you interesting facts about the gambling industry When something catches our eye, we will publish it for your enjoyment.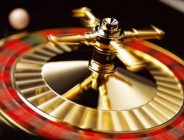 Roulette Wheel in Action generated aspect of online gaming and has the potential to further complicate matter.
Here are a list of tips to help you improve your overall online roulette strategy:
The first thing to realize when playing roulette is that you can win huge amounts on a single number, but likewise you can lose a huge amount. It is better to spread your bets over a larger variety of numbers or play the outside. This way you will make smaller wins, but a larger quantity of wins.
Try betting strategies like the Martingale system but don't swear by them. There are a lot of betting strategies out there that could or could not work. It's important to understand that none of these strategies are not infallible although they do offer guidelines. Don't blindly follow one of these strategies and expect to win just because you have.
Look for a version of the game where your chances are higher. European Roulette doesn't have the double zero that American Roulette does, thus diminishing your chances of not hitting odds, evens or your colour of choice.
Playing online roulette allows for multiplayer games. Although you still technically play the house, you are able to sit at the table with other players. This is a great way to pick up strategies from watching other players playing the game.
Make sure that the site you are playing on is reputable. There are multiple sites available online, some of which are reliable, and some which aren't. It's important to make sure that the site you're on is legitimate, but this can be done through various other sites whose specific purpose is to list the good, the bad, and the nasty of the online casino world.
Try and limit the amount of alcohol you consume while playing online roulette. It's very easy to get carried away after a few drinks, and your inhibitions are lowered. Your bets should be educated if you are looking to win at real money Visa roulette, and this can't happen if your head is clouded in any way.
Even if you win five spins in a row, it's a good idea to put aside a small percentage of each win and don't touch it. Eventually if you continue to bet and losing numbers pop up you will lose what you have gained, therefore keeping something back from each win ensures you don't go home empty handed.
Don't fool yourself into betting more than you can afford, as this is a sure-fire road to disaster. Decide on a budget that suits your pocket, and stick to it – only making bets on stakes that fit into your budget. It is a lot easier to make money by sticking to conservative betting – slow and steady wins the game.
Step into the real world every now and again. It's a good idea to improve your online roulette strategy to make the occasional foray into the real world. Visit a real-life casino and play a few games. It's a great place to meet other players and discuss strategy and tips with them.