Think of a casino game and the chances are that the one that immediately springs to mind is roulette. The roulette wheel spinning round, the croupier's call of "no more bets" and

There are occasions when we here at ReadyBetGo want to bring you interesting facts about the gambling industry When something catches our eye, we will publish it for your enjoyment.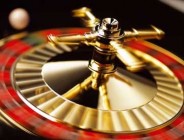 the sound of the ball falling into the number all conjure up images of glamorous scenes, and fortunes being won and, unfortunately, lost.
It's a game that has been incredibly popular since it was first widely played in France in the late 18th century and there are some very good reasons why it's always been a favourite. For example the rules are very simple, unlike more complex casino games like craps and poker, and it also offers a wide range of betting options perfectly suited to the more conservative as well as the more risk-taking gambler.
There are two versions of the game, European and American. The former has thirty six numbers and a single zero making the chances of picking the right number 37:1. American roulette, on the other hand, has an additional "00" number making the odds a less favourable 38:1. So the first lesson in roulette is always to play European roulette if you get the chance.
There are a number of different bets you can make in roulette and, to understand them all, it's best to know what a roulette table looks like.
The simplest and most basic bets are on whether the number will come up red or black, odd or even or low or high. Unsurprisingly these only pay back at evens. More complex bets such as whether the number will be 1-12, 13-24 or 25-36 pay out at 2 to 1, betting on four numbers in a block pays out at 8 to1 and a single winning number pays 35 to 1. As there's, at best, a 37:1 chance of picking a winning number you can start to see where the house gets its edge.
As with all casino games, for example like card counting in blackjack, there are strategies that are reputed to help tip the odds even more in your favour at the roulette table. One of the most famous of these is the Martingale. The theory is simple – when you have a losing bet, for example you bet on red and black comes up, you should bet on red again but with double the stake and continue till you win. This sounds like a good idea, until you have a losing streak that clears out your bankroll.
There are also many other systems such as the Labouchère which follow the same overall principle as the Martingale but at lower risk, however none are really known to be successful.
Far better, if you really want to maximise your chances of winning, to learn all about roulette and to understand the probabilities involved. Then you'll be in a far better position to implement a winning roulette strategy which generally involves covering as many numbers as you can with as few chips as possible.
While this won't create any real big money wins it's the best way to slowly accrue money without staking too much or taking undue risks – because in roulette, as in life, slow and steady is usually the best winning strategy.