by Howard Stutz
Las Vegas Gaming Wire
LAS VEGAS, Nevada –- Three men who were suing Las Vegas Sands Corp., for payment for assistance they provided the company in its acquisition of a Macau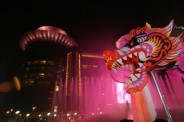 The Sands Macau gaming license seven years ago, reached a confidential settlement with the casino operator Wednesday.
Financial terms of the settlement, which was announced the day before the trial was scheduled to begin, were not disclosed. The deal kept Las Vegas Sands from having to venture inside a Clark County courtroom and defend its actions in winning the 2002 licensing bid for the second time in 14 months.
In May 2008, a Clark County jury awarded Hong Kong businessman Richard Suen almost $60 million for his help in introducing Las Vegas Sands executives to Chinese government officials. That verdict is on appeal to the Nevada Supreme Court.
Attorney Donald Campbell, who was representing the three men -- Clive Bassett Jones, Dax Turok and Cliff Cheong -- declined comment. Campbell said during pretrial hearings that he thought Las Vegas Sands owed his clients at least $500 million.
Las Vegas Sands spokesman Ron Reese also declined comment, citing the confidentiality of the settlement.
John O'Malley, the Los Angeles-based attorney for Suen, declined to speculate how the settlement might impact his case.
A source close to the casino operator said Las Vegas Sands didn't want to deal with the distractions of a protracted court case, which would have included testimony from company Chairman Sheldon Adelson and former company President Bill Weidner.
Both men testified in the Suen case. Weidner was forced to resign from the casino operator in March and his heated animosity with Adelson over the company's direction was publicly aired.
Company executives decided to settle the lawsuit and focus their efforts on resolving the casino operator's financial concerns and completing a $5 billion resort under development in Singapore, a source said.
Monday's planned start of the civil trial had been delayed until today because settlement discussions were taking place.
Jones, Turok and Cheong claimed they helped Las Vegas Sands win a shared Macau gaming license when they paired the company with Hong Kong-based Galaxy Entertainment. The move rescued Las Vegas Sands' seemingly failed licensing bid.
The men claim they assisted Las Vegas Sands in formulating a business relationship with Galaxy in early 2002 by arranging a meeting in Macau between officials from Galaxy, Las Vegas Sands executives and Macau Special Administrative Region Chief Executive Edmund Ho.
On Feb. 8, 2002, Las Vegas Sands and Galaxy were awarded a joint gaming concession, but the companies eventually split the license.
Jones, Turok and Cheong said they were owed 5 percent of the value of Las Vegas Sands' Macau gambling license, based on an agreement with company executives. In media interviews over the past few years, Adelson said the license was worth "billions."
In a deposition, former Las Vegas Sands executive David Friedman said the three men gave the company a new hope in the Macau licensing process after the casino operator's partnership with a Taiwanese group was rejected.
"At that point I didn't have a whole lot of rabbits left to pull out of the hat," Friedman said. "What they proposed was a good idea."
Suen sued the company in 2004, claiming that Sands promised him at least $5 million and 2 percent of the gaming operations' net profits in exchange for his help in securing the gaming license. His lawsuit sought $100 million in damages.

Las Vegas Sands Corporation
3355 Las Vegas Boulevard South
Room 1 A
Las Vegas, NV 89109
Phone: (702) 414-1000
Website: www.lasvegassands.com

Las Vegas Sands Corporation owns and operates casino resorts, including The Venetian in Las Vegas and The Sands Macao Casino in Macao. The company is also developing casino resorts and properties in Las Vegas and Macao, including The Palazzo Resort Hotel Casino and hopes to build a casino in Singapore.