STOCKHOLM, Sweden -- Jadestone, the Nordic based game development company, today announced that solitaire fans now can enjoy their popular Scarab Solitaire game on the iPhone.
Scarab Solitaire is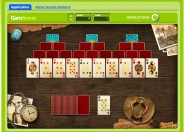 Scarab Solitaire from Jadestone now available for iPhone an Egyptian themed variant of the solitaire classic with pyramid shaped card stacks. The game is one of the most played games on the GamArena skill games platform, and has also been popular both on casual game sites and on Facebook. It has been played over 30 million times during the past six months.
"With the iPhone's increasing importance as a gaming device, it was practically a given that we'd get involved," said Tommy Palm, Vice President Mobile at Jadestone. "We were interested in seeing how we could reinvent one of our most successful casual games for the iPhone and iPod Touch. We're very pleased with the result. Not only does the touch screen get you closer to the action, we were also able to add real 3D animations and let players choose their own music."
Available now in the iPhone App Store (www.itunes.com/games/scarabsolitaire) for $1.99, Scarab Solitaire can be played in English, German, French, Spanish or Italian. Additional casual game favorites from Jadestone are likely to follow soon.