Club USA Casino Craps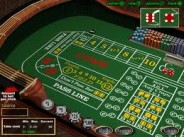 Club USA Casino has good craps action at their site. They offer private, public and reserved tables. The minimum bet is $1 and the max is $500. The casino offers behind the line odds. Nice graphics and sound add up to a satisfying craps experience. Good shooting.
Free Slot Tournaments Going on Now at Roxy Palace!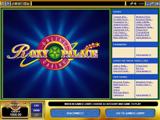 Roxy Palace has slot tournaments 24 hours a day with guaranteed freerolls and free buy-ins. There's a huge variety of types of tourneys to enjoy. Sign up now, join the fun and win some cash!
NEW YORK, New York -- As reported by Bloomberg: "Harrah's Entertainment Inc. and Youbet.com Inc. have joined professional poker players in helping support legislation to be introduced today to


legalize online gambling.
"The measure is being proposed by Representative Barney Frank, a Massachusetts Democrat who failed in the last session of Congress to repeal a ban on the gambling.
"Supporters 'have been mobilizing,' Frank said in an interview last week. 'This is a grassroots thing.'
"Along with Harrah's and Youbet, Frank's allies include the Poker Players Alliance, headed by former U.S. Senator Alfonse D'Amato, a New York Republican. London-based UC Group Ltd., an online payments provider, hired former U.S. Representative Thomas Downey, a New York Democrat, to lobby for the bill.
"...Harrah's Vice President Jan Jones said regulating and taxing online gambling might swell government coffers by $2 billion to $6 billion annually. "This is a thriving industry," said Jones, who is in Washington this week to meet with lawmakers and staff members. "They can put in a regulatory structure and they can tax it..."

Caesars Entertainment
One Caesars Court
Las Vegas, NV 89119
Phone: (702) 407-6000
Fax: (901) 762-8637
Website: www.caesars.com

Caesars Entertainment owns or manages through various subsidiaries more than 40 casinos in three countries, primarily under the Harrah's, Caesars and Horseshoe brand names. Caesars also owns the World Series of PokerŪ and the London Clubs International family of casinos.