Cirque Du Soleil : 20 Years Under the Sun
by Tony Babinski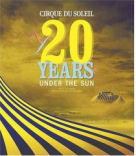 It's hard to imagine that a company known for its amazing acrobatics and pyrotechnics started out as a loose band of stilt-walkers and fire-breathers, but this elaborate retrospective has the pictures to prove it, as well as interviews offering insight into the exotic world under the big top. The book traces Cirque du Soleil's history in almost excessive detail; the first section, in particular, is an exhaustive record of all the work it took to get the project going.
MACAO -- As reported by Reuters: "Las Vegas Sands Corp (NYSE:LVS) offered a peek on Thursday at a $150-million Cirque du Soleil show that will open at the Venetian Macao, the casino operator's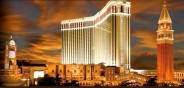 The Venetian Macao Resort Hotel is now the largest casino in the world. latest high-stakes bet that it can get visitors to the Asian city to do more than gamble.
"The dreamy 'Zaia"' features dancers and acrobats depicting a story of a girl who ventures into outer space in Asia's first permanent Cirque du Soleil installation. It has an initial contract of 10 years.
"The gamble that 'Zaia' will pull in the crowds is critical for the U.S. casino operator, which suffered an unexpected first-quarter net loss, partly because it lost a significant share of a VIP market made up of high-rollers who gamble upwards of $100,000 a visit.
"In contrast with Las Vegas, Macau, a former Portuguese enclave, has a reputation for attracting visitors with little more than gambling on their minds.
"...Cirque du Soleil's unique performances have been a cornerstone of Las Vegas' non-gaming entertainment since the early 1990s, with five resident shows in the city..."
Venetian Macao Resort Hotel
Macau
Phone: +853 2882 8888
Website: www.venetianmacao.com