by Howard Stutz
Las Vegas Gaming Wire
LAKE TAHOE, Nevada –- The private equity group that controls the Cal Neva resort at Lake Tahoe has put the property once owned by entertainer Frank Sinatra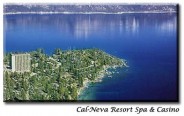 The Cal Neva Casino in Lake Tahoe
on the market.
Canyon Capital Realty Advisors has hired the Global Gaming Group of
Las Vegas
-based CB Richard Ellis to market and sell the 83-year-old hotel-casino.
The 219-room Cal Neva is on almost 14 acres on Lake Tahoe's North Shore. The hotel includes cottages and was a popular destination for Hollywood and the political elite, especially when Sinatra owned it. State gaming regulators forced the entertainer to give up ownership due to alleged organized crime activities by some of his partners.
The Cal Neva includes restaurants, a spa and open space featuring panoramic views of Lake Tahoe. The property also features a 350-seat showroom, 16,000 square feet of meeting space, a lounge and a 5,365-square-foot casino. The property's nonrestricted gaming license would allow a new owner to more than double the size of the existing casino.
Los Angeles-based Canyon said it has received more than 150 unsolicited calls from potential investors across the country, expressing interest in acquiring the Cal Neva.
Canyon became owner of the property in April through a nonmarketed foreclosure. The new owners said they have experienced a turnaround in the Cal Neva's business operations.
"We said from Day One that we would keep Cal Neva open for business, make long-overdue management improvements to the property and assess its future," Canyon executive Richard Bosworth said. "That's exactly what we've done. Cal Neva is a great asset with a very bright future, and we think the time is right to market the property to interested buyers."
CB Richard Ellis Executive Vice President John Knott said Canyon has been able to stabilize the Cal Neva's business since taking over. Occupancy has increased and events have been scheduled throughout 2009.
"Cal Neva is a key asset in Lake Tahoe, a market with particularly high barriers to entry," Knott said. "This property presents investors the opportunity to brand and reposition an irreplaceable asset."
Cal Neva Resort, Spa and Casino
2 Stateline Road
Crystal Bay, NV 89402
Toll Free Phone: 800-233-5551
Website: www.calnevaresort.com

This all-inclusive Resort on Lake Tahoe includes full resort services, euro-spa, great golf packages and of course featuring the best in slots, table games and weekly tournaments