People play casino games for two reasons: to have fun and to win money. Las Vegas offers an experience of a lifetime if you are after having a great time. Online casinos give you the convenience of

There are occasions when we here at ReadyBetGo want to bring you interesting facts about the gambling industry When something catches our eye, we will publish it for your enjoyment.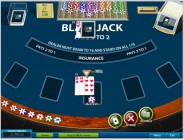 playing at home and still stand a chance to win money.
No player ever wants to leave a casino site having lost more money than they started with. It happens all the time but we all wish we won thousands of dollars every time we played. Since that can't happen, the best way to win consistently is to play games with high odds of winning.
#1: Blackjack (1% House Edge)
With odds of only 1%, Blackjack is one of the best games to play at a casino. It's a card game played by 1-7 people and a dealer. Each player gets four cards. Some cards have numbers on them while others have the faces of a queen, king or a guy named Jack.
The goal is to beat the dealer by drawing cards whose value is closest to the number 21. If you go overboard, you lose. Cards with numbers are counted as such. Face cards are given the value 10. Ace cards have the letter A and are counted as either 1 or 11.
The ace counted as 1 if giving it the value 11 takes the total number of your cards to more than 21. Getting you an Ace card and a face card totals to the 21, leading to an automatic win. Having the two cards is called a blackjack hand.
There are several strategies for winning blackjack. Some strategies lower the house edge to just 0.5%. Of course, that does not mean you can only lose 50 cents for every $100 you bet. It instead refers to what the casino stands to win in the long-run.
#2: Baccarat (1% House Edge)
Baccarat is one of four of the most popular table games in a casino. The other three are Blackjack, craps, and roulette. Like Blackjack, Baccarat is a card game. It's played using 8 decks in Vegas and 6 decks in most online casinos. The Ace card in Baccarat only represent the number 1. Face cards hold the value 0 while number cards represent 2-9. The number 10 holds the value of 0.
Baccarat resembles blackjack in many ways. But instead of trying to draw cards whose total is closest to 21, the winning hand has cards closest to 9. If you draw cards with a greater value than nine, let's say 14, the left digit is removed. The value your cards now becomes 4.
Apart from drawing cards, you can also win this game by betting on the banker's or player's hand. Don't get confused. The banker and the player are simply terms used in the game. Baccarat is, however, a game of chance. You can't influence the outcome of the game.
#3: Slots (1-10% edge)
Slots may be games of luck but you have a better chance of winning in a slot game than with a lotto ticket. You can win once every 15-40 times in a slot but the odds of hitting a loot jackpot are 1 in a million.
Wins in a slot game are determined by a random number generator. The best slots have payout rates of between 95% and 99%. The worst slots payout at a rate of below 90%. Modern slots, especially Megaways slots, provide thousands of ways to win and have payout rates of above 96%. Megaways got their name for having 1000 or more ways to win in contrast to regular casinos that have 243 ways to win on maximum.
There are no skills needed to play slots. If you love the glitzy lights and clicking sounds on a game, give it a try. The betting amounts may differ but you can play any online slot with as little as 50 cents. Slots also come in the widest variety of games in any casino site. From sports themed slots to pop cultured games, blockbuster inspired to the classics, it's impossible not to find a love you can play and love.
Craps (50% Odds)
Craps is so full of jargon that most novice players tend to avoid yet. Surprisingly, craps is one of the few games where you can influence the outcome of your game. There are two main bets in a game of craps aimed at determining whether the die passes a specific bar or it doesn't. These are called the PASS or DON'T PASS bets.
The first roll of dice is referred to as the come out roll. It determines whether you win or lose the PASS and DON'T PASS bets. If you roll a 7 or 11 in the come out roll, it's counted as a win for your PASS bet. If you roll a 2, 3, or 12, it's a win for the DON'T PASS bet.
There are more bet outcomes in craps. To become a professional at it, learn all the rules and jargon words used in the game. Luck is important to win the game but understanding the rules is more important. The house edge varies depending on your bet and range between 1.41% and 10%.
Roulette (50% Odds)
Roulette is a simple game to play. It's of luck anyway, so there is little you can do to influence the game's outcome. However, it's a fun game with more than 10 types of bets. Most bets involve predicting where the small wheel that rotates around the wheel will land.
Let's say you think the wheel will land on a black number. The wheel's numbers are painted either black or red. The odds of winning in this bet are 50%. The house's edge comes in that there are 37 numbers in most roulette wheels and 38 numbers in the American roulette. The number 0 is painted green, meaning if the wheel lands on it you lose.
To Conclude
The odds of winning certain casino games are higher than others. You have a 50% odd of winning craps and roulettes. The odds are lower in slots and blackjack. The house edge also determines how often players win. The games listed above have the best house edge and odds. Stick to them and you don't have to play games designed for the casino to win every other time.