Gambling is just one of the things you can do at a casino. Next time you are visiting your local casino, or go on a trip to Vegas, try some of our top ten amazing things to do in a casino.
Spin

There are occasions when we here at ReadyBetGo want to bring you interesting facts about the gambling industry When something catches our eye, we will publish it for your enjoyment.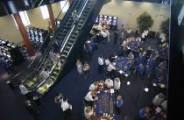 Some Reels
Slot machines are a great and inexpensive way to spend some time at a casino and enjoy the thrill that comes from a little light gambling. You don't need any special skills; the machine does most of the work for you. Some slots have high stakes but look around and you should find slot machines that cost as little as five cents to play.
Do Some Shopping
Casinos aren't all about gambling. Most big casinos have lots of different leisure activities available to give players a break from gambling and give non-gamblers something to do. The gift shops and boutique stores that you find in casinos can have some amazing exclusive products available, as well as souvenirs.
Take in a Show
Not only do casinos often have stores for you to shop in, but they also often have entertainment available to give you a break from the poker tables.
Sometimes the show can be a world-class music act or entertainer, or even a comedian. These can be a great way to spend some time in a casino and will often be more memorable than a few hands of poker or blackjack. Next time you are in a casino, why not see a show?
Try Some Roulette
Roulette is one of the simplest casino games to play and is quite easy to pick up even for beginners. It can also be a lot of fun just to watch other people play. Most roulette tables have a minimum stake, but often this is a low dollar amount, so you can have some fun for just a few bucks. Start by betting on black or red to get involved without having to make any complex decisions. Once you get the hang of it you can progress to numbers and lines.
Eating at Casinos Can Be Amazing
Casinos try to give their patrons the best of everything, and food is no exception. Hollywood Casino Perryville in Maryland has a range of excellent dining options, as well as an amazing casino floor. You can even hire a room for events and celebrations. The food at casinos is often really good, and the meals on offer at the Hollywood Casino Perryville are no exception!
People Watching
If you don't want to gamble, then just watch the gamblers. You can get a good view of a table from afar and watch someone or a group of people make decisions and play the games. You can even feel some of the thrill of a big win just by watching a player strike it lucky. You can also experience the lows of a loss without feeling a dent in your pocketbook!
Get a Massage!
Many casinos have a spa and massage services available for their high rollers to unwind in, and visitors can enjoy the spa too. Why not take some time away from the casino floor and enjoy a relaxing massage or a spell in a hot tub. This can be a great way to spend time at the casino without having to risk losing money at a poker table or a roulette wheel.
Why Not Work There
Casinos are always looking for employees, so why not earn some money at a casino instead of spending it? If you have experience as a gambler at card tables, then you may also be good on the other side of the table as a croupier. There are plenty of other roles that need to be filled at a casino too if you don't want the responsibility that comes with dealing the cards. Workers often get big tips at a casino, courtesy of the big winners that play there.
Check Out an Exhibit
Most casinos try to make sure that there is something for everyone at their establishment, and many have interesting exhibits for you to explore when you take a break from the tables. Many are related to sports, like baseball or basketball, and you may find some rare memorabilia for you to look at and take your picture with. Some casinos even have historical exhibits like dinosaur bones or ancient relics. Take a look around a casino and you never know what you might find!
Have a Drink in the Bar
With so much to see and do at a casino, you have probably worked up a thirst. After playing a few hands, taking in a show, or exploring and exhibit, why not take the load off your feet and sit down with a refreshing beverage? Casinos often have great cocktails on offer, as well as ice cool draft beers. Stop all the hustle and bustle and enjoy a refreshing drink in the bar.
Don't spend all your time in a casino stuck at a table. Make sure you get away from the gambling and take a break for a while. With so much to see and do at a casino, you would be mad not to!