Video poker is often compared to online slots, and it's true that there are a lot of similarities between the two games. Both are played at casinos, both involve an element of luck, and both

There are occasions when we here at ReadyBetGo want to bring you interesting facts about the gambling industry When something catches our eye, we will publish it for your enjoyment.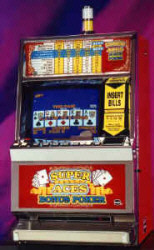 can lead to winning big payouts. However, there are plenty of major differences too. Before you choose to play either game, it's important to know how they work and what sets them apart.
What are Online Slots
Online slots are the most popular games at online casinos and are based on classic slot machines. In most cases, you select how much you want to bet and then hit spin. When you press spin, the virtual reels turn and reveal a pattern of symbols across them. If you match these symbols along the paylines, you can win cash based on how much you stake.
These games are completely based on luck, with no way to influence what happens. This is unlike online poker and other games which involve skill. Each time you press the spin button, a random number generator decides which symbols will be displayed. The only way to win is to get lucky, and some slots can award huge payouts worth millions.
While online slots were originally based on classic slot machines, newer games are far more complex. They often contain thousands of paylines, loads of different symbols, plus bonus games and features. Free spins, tumbling wins, multipliers, and even expanding reels are commonly used to make games more exciting.
What is Video Poker
Video poker is a sort of mix between five-card draw poker and online slots. In this game, the objective is to make the best five-card hand, just like in any other game of poker. However, there are no community cards. Instead, you choose your stake and press the deal button to begin. The game then deals five cards, which you can choose to either keep or discard.
When you keep a card, it will stay as part of your hand. On the other hand, discarding will remove that card and deal you another at random. The idea behind this is that you get to choose how you want to play. It adds an element of skill and strategy to make things more interesting.
Different video poker games have different rules and payouts, but the payout will always depend on the hand. The more valuable your hand, the bigger your win will be. For example, the lowest win might be a pair of Js and will payout your stake. However, the full house could pay out 250x your stake.
The Differences Between Video Poker and Online Slots
There are plenty of similarities between video poker and online slots, but you shouldn't think that these are the same game. The two are very different to play, and each offers its own unique experience. Here are a few of the main differences between slots and video poker.
Luck and Strategy
Slots are very much luck-based in that there's no way for you to affect the outcome. Each time you spin the reels, the outcome is determined by a random number generator. There's no way to know when a slot will payout, and you can't use skill or strategy to affect what happens. Some players swear by specific strategies or tricks to beat the slot machines, but there's no way to trick the software.
On the other hand, video poker is very much a game that involves both luck and strategy. You need to know how to play video poker to get the most out of it, and you have to think carefully about which cards you discard and which you keep. Lucky still plays a role in how successful you are, but you can at least have some control over the outcome.
Variety
Online slots offer a huge amount of variety, with hundreds of new games produced each year. These are the most popular game on offer at any online casino, and as a result, they're always being produced. New games feature loads of exciting bonus features and high-definition graphics to keep players entertained, and there's always something new to play.
With video poker, there are far fewer options available. Most casinos offer a couple of different versions, such as Jacks or Better and Deuces Wild. While these have slightly different rules, there are no unique bonus features, and the graphics tend to be outdated.
Payout Rate
Lastly, the payout rates of video poker and slots are very different. Slots typically have a return to player rate of around 95%. This means that if you bet $100 over a long period of time, you can expect to get around $95 back. For video poker, the payout rate is much higher. If you use the correct strategy, you can expect slightly higher than 99%, usually around 99.5%. This means they're much fairer to play, although there isn't the potential for huge wins.