Slots are very popular. They are simple and entertaining. In today's online world, there are many options and ways to play slots available to players. It's more than putting in your money

There are occasions when we here at ReadyBetGo want to bring you interesting facts about the gambling industry When something catches our eye, we will publish it for your enjoyment.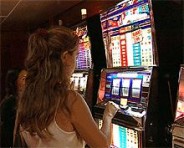 and pulling the lever. Here are few important tips every player should know and execute while playing slots:
Play for max coins
: If you want to hit big wins, it's necessary to play max coins. Playing for max coins qualifies you for larger payouts and progressive Jackpots, if that feature is attached to your slot machine. On the other hand, if you


Understand Paylines
: When you play slots, it is essential that you understand paylines. This is especially true of video slots, where you can find as many as 25 paylines or more. In such cases, it is not sufficient to play max coins. For example, if you play max coins for only one payline then your probability of winning higher payouts will be very low and you may still not win Progressive Jackpots. To facilitate the biggest possible win for your chosen combination of symbols, play not only for max coins, but also all the paylines. You can enjoy Guts casino experience and
play slot games online
. You should also understand slot denominations. A good rule of thumb is the higher the denomination, the lower the house edge. It may cost more, but in the end it will make you happy if you get higher payouts.


Zombie Factor:
Zombie is a term used in a gaming industry for a player who plays at the same machine and plays it over and over unthinkingly, without switching machines or without making any other variation in any way. In that case , if you are feeling like a zombie, a good idea would be to take a break, either from that game or that machine and move to another game. Try not to become a zombie, take breaks and move around to revitalize yourself.
Bonus rounds:
To increase your win, a bonus round is an outstanding option. However, many bonus rounds have a condition that if you lose, you lose your win, too, so be aware of that before going for bonus round. There are many ways to become eligible for bonus rounds. For example, you have to choose between different combinations or between different colors and if you pick the right one you win, but if you lose, you will lose your entire win too. So be careful before playing bonus rounds, understand them thoroughly and play comfortably.


Use Downloadable versions of casino software:
Flash version of casino software may be faster, but they offer a limited number of games. In order to enjoy the maximum number of games and great graphics, always opt for fully downloadable versions of software.