Online casino games are a great invention - giving players the option to play their favourite games anywhere, at any time, for as long or as short a time as you like, from the comfort of your own home

There are occasions when we here at ReadyBetGo want to bring you interesting facts about the gambling industry When something catches our eye, we will publish it for your enjoyment.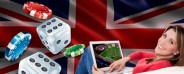 away from the noisy crowds and added expenses. Playing at an online casino can be a fun and relaxing hobby, but with that being said, there are a number of tips to keep in mind before you get started playing online casino games. The following tips will help you increase your chances of winning while having fun.
Pick the Right Casino
There's certainly no shortage of online casino options out there today, and picking the right one for you is crucial. First of all, look at the basics - you should make sure that the casino is legitimate and that the site itself has high security, look out for an SSL certificate in the browser bar. Do some research to make sure that the casino you're considering is well-established and has a good reputation, and is licensed by the relevant governmental authority. You should also look for eCOGRA approval.
Pick Your Deposit Method
Before you begin wagering real money at an online casino, it's a good idea to look into the various banking methods available and make sure you use a reliable one. Various payment options include money transfers, debit and credit cards, prepaid cards, and online payment wallets like PayPal and Skrill, plus many others. The option that you choose will depend on your personal preference and the amount of money that you would like to wager; if you're playing with big money at somewhere like High Stakes Casino, for example, then you'll want to choose a highly secure payment option. This is because High Stakes Casino offers huge wagering options up to thousands of pounds per bet.
Pick Your Games
Once you've chosen a casino and deposited your money, it's time to choose the type of game that you want to play. There are hundreds of online casino games to choose from, all with their own odds and casino game strategies. Don't get too overwhelmed; choose a game that you are already familiar with, or pick a game you're interested in, learn how to play it and then just focus on that one game for a while. You can always branch out later when you're more familiar with online casino gaming.
Manage Your Bankroll
It's undoubtedly a lot more fun to win when you're playing with real money but bear in mind that when playing casino games online, you should also be prepared to lose. So, make sure that you are responsible when it comes to managing your bankroll. If you're planning to take part in online casino gaming as a regular hobby, then it may be worth factoring this into your budget so that you know you're not gambling with the rent money and can afford any wager that you make. And, it's important to have a healthy attitude towards your losses; think of it as paying for some entertainment, just as you would if you were going to the cinema or something else you enjoy doing.
Do Your Research
Before you dive into playing a new online casino game, it's a good idea to spend some time learning about it and familiarising yourself with the strategy used. Blackjack, for example, comes with a basic playing strategy that you can use in order to improve your chance of winning each hand that you are dealt - so it's definitely worth getting to grips with this strategy before you dive into playing blackjack at the online casino. Bear in mind that playing online can be fairly different to playing at a physical casino sometimes, so even if you've played before, it can be worth taking some time to brush up on the rules.
Enjoy Yourself!
Finally, and most importantly, remember that you're playing at the online casino to have fun and pass the time in a relaxing way. Winning some money is just a bonus! If you feel that you are beginning to take online casino gaming too seriously, or worrying about the amount of money that you are spending at the online casino, there are a range of strategies that you can use in order to keep yourself playing responsibly and avoid getting into any sort of trouble. A good online casino will allow you to set limits; this is a good idea if you are worried that you may struggle to stop playing after a certain amount of time or restrain yourself from depositing more money if you have a big loss. Setting limits for yourself will allow you to step back and take a breather, so you can return to the game later in a better frame of mind.
With so many games available to play at online casinos today, there are definitely plenty of chances to win!