x
If you've seen the kind of profits people can make from online betting, there's a good chance you'd like to get into that industry yourself. You've spent hours forlornly

There are occasions when we here at ReadyBetGo want to bring you interesting facts about the gambling industry When something catches our eye, we will publish it for your enjoyment.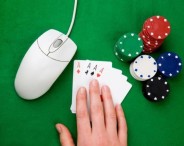 sitting at your desk, wondering if it's possible to do something you enjoy that can make you more money. The answer to this question is yes, it's possible, but it's not something you can learn to do overnight. In order to get into online betting as a career, you'll need time, patience, and a strong work ethic. Here are our tips and tricks for beginners in the world of online betting.
Not all websites are created equal
The first lesson to take away when it comes to online betting is that not all sites are created equal. Some sites give better payouts than others, and some sites have more favourable beginner offers. Picking the right site to get started is important. Choose a reputable, well-regarded website like lucky247 and you can't go far wrong. Always be on the lookout for sites that are looking to rip you off or scalp your winnings. The best websites are on your side; they want you to succeed rather than just wanting your money.
Read reviews
In order to make sure you're choosing the right place to bet, it's important to read reviews. Many websites will have a vested interest in promoting themselves, so they'll try to sell themselves as reputable when they're actually hiding something. Review portals are great places to go for this, especially if they're also offering in-depth tips on how to improve your game and crank up your profits. Don't go into online betting unprepared and you'll significantly increase your chances of success.
Keep up-to-date with news
One of the most common ways for online bettors to make money is through sports. There's definitely money to be made there, but it's a highly changeable industry in which odds and circumstances can completely change in a matter of days or even hours. With that in mind, it's very important to keep up to date with the latest developments in your chosen field. Sites like Sky Sports or ESPN offer up-to-the-minute news and should be on your chosen browser's favourites bar.
Develop a strategy
Betting without a strategy is a surefire way to say goodbye to all of the profits you've made so far. It is, of course, entirely possible to get lucky and make some money without knowing what you're doing. After a while, though, you're going to need to develop a consistent, applicable strategy if you want to keep your streak going. Look out for teams or bets that deliver results and integrate them into your strategy. Learn from mistakes and don't make decisions emotionally.
Thinking of becoming a trader? Look into bots
Okay, so online trading isn't technically the same thing as betting, but there's certainly crossover involved between the two. Both involve making informed decisions based on circumstances and past form, and both involve a degree of luck. If you're thinking of taking the online trading route instead of betting, you should definitely look into trading bots, which make it easier for you to make money without actually being present at your workstation. Find yourself a good comparison portal and pick the right bot for you. Trading isn't betting, but if you're an online bettor looking for something a little more mathematical, it's an avenue you should consider.
Don't give up
Whether you're online trading or online betting, the time will come when you're tempted to simply throw in the towel and give up. Don't be tempted to do this. You'll suffer setbacks during your journey; everyone does. It's what makes us human. No matter what happens, remind yourself why you decided to embark on this journey in the first place and what's at stake if you give up. Of course, that doesn't mean you should repeat bad trades. Learn from your mistakes instead of suffering from them and you'll benefit in the long term.
Enjoy yourself
Online betting isn't supposed to feel like a chore. If you don't feel the excitement and adrenaline rush that comes with making a good bet and watching it pay off, then this might not be the industry for you. Betting is a highly competitive discipline, and there will be plenty of bettors who will pick up the slack if they perceive you to be anything less than a hundred percent committed. Remember that as you place your bets and keep the fire burning at all times.
Looking for more tips? Check out this related article here on ReadyBetGo! - Tips on Playing Video Poker