New Bonus Game Slots!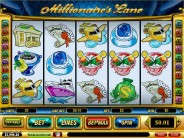 One of the most fun development in slots over the past five or so years has been the explosion in bonus game slots. When you line up the right symbols, you're taken to a new screen (or screens) where all sorts of action happens. Vegas Red knows about bonus slots and has at least twenty of these machines available at their site. Choose from the new Millionaires Lane (pictured here), Captain's Treasure or Desert Passage or many others for bonus action fun.
Intercasino Craps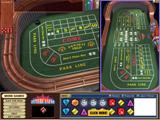 Feel like playing at a funky craps table where you shoot the dice just like in Vegas? That's what Intercasino craps has to offer. The software gives you two choices, you can watch the dice or throw them. The throwing action may be just an illusion, but it's a good one where you feel you can put some action on the bones. Come on seven!
Q I saw some messages in a blog recently about a gambling system called the martingale. Someone was promoting the system, and you were saying that it didn't work. Please tell me more about the martingale.
A

Basil Nestor is the author of the new Playboy Complete Guide to Casino Gambling. This wonderful book teaches players how to avoid sucker bets and win more when playing gambling games. He is also the author of The Smarter Bet Guide series for video poker, slots, craps, and many other books about gambling. Basil's website is www.smarterbet.com
Gladly, but to be absolutely accurate, the martingale does work sometimes. The problem is that it fails other times, and those failures usually cause catastrophic losses.
The martingale is a negative-progression gambling system (it raises bets after losses), and it is typically used when bets pay 1:1, as in roulette, baccarat, or craps. The player wagers one unit after every win, and doubles the wager after every loss…two, four, eight, sixteen, until a win. The result is always a one-unit profit, assuming the series ends with a win. And that's the problem; there is no guarantee that consecutive losses won't bunch up. For example:
| | | | |
| --- | --- | --- | --- |
| Bet #1 | Wager = 10 | Net If Win = 10 | Net If Loss = -10 |
| Bet #2 | Wager = 20 | Net If Win = 10 | Net If Loss = -30 |
| Bet #3 | Wager = 40 | Net If Win = 10 | Net If Loss = -70 |
| Bet #4 | Wager = 80 | Net If Win = 10 | Net If Loss = -150 |
| Bet #5 | Wager = 160 | Net If Win = 10 | Net If Loss = -310 |
| Bet #6 | Wager = 320 | Net If Win = 10 | Net If Loss = -630 |
| Bet #7 | Wager = 640 | Net If Win = 10 | Net If Loss = -1,270 |
What is the probability of seeing seven consecutive loses? It's 1 in 128 on a coin-flip-style 50/50 proposition. The true odds are worse when playing casino games that pay 1:1 (roulette, baccarat, craps, blackjack). For example, the odds for seven consecutive craps or baccarat losses are about 1 in 116. Roulette is about 1 in 90. Still pretty unlikely, right? Yes, but consider the actual wager. The gambler is risking $1,270 against the casino's $10 that seven consecutive losses won't occur. What a dumb bet! The probability of "hitting the wall" and losing X dollars is always greater than the probability of winning X dollars in the interim to cover the loss. In other words, a player will probably lose $1,270 on a bad streak when using the martingale before he wins that much.
Thus the martingale is always a long-term loser. It's unavoidable.