Old habits die hard, and sports betting has been around for a while. Early references to this pastime can be found in several ancient civilizations, like Greeks, Romans, and Chinese. Instead of fading

There are occasions when we here at ReadyBetGo want to bring you interesting facts about the gambling industry When something catches our eye, we will publish it for your enjoyment.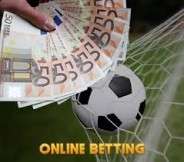 away, sports betting has only grown with time. Now it's an industry worth more than 203 billion dollars annually and rising, and it isn't showing any signs of slowing down any time soon.
In this article, we'll have a look at the most popular sports for betting around the world. Come with us!
Bettors, Spectators, and Sponsors
Sports betting it's an already huge market, but it keeps on expanding. New sportsbooks appear every day, fighting for the best betting bonus offers. Thanks to mobile technology and fast internet, it's possible to bet on any sport, from anywhere in the world. Such technological development allows for options of games and also for more options of bets.
Since operations can now be instant, it's possible to place bets mid game and more. The possibility to place new bets during the game doesn't only make sports betting more fun. It also increases the number of viewers watching the game until the end, with profound commercial implications.
For example, more viewers tend to attract more sponsors to the game, resulting in better media coverage. More coverage brings more viewers, so it's a virtuous circle. Some specialists argue that it can help boost the popularity of some women's sports. Including more women's competitions in the book could bring more bettors and investors. It could also help to bridge the current gender gap in sports.
Top 5 Popular Sports for Betting
In this section, we'll briefly talk about the sports on which people bet the most. Indeed, there will be some regional differences, but the list below brings points to the most popular ones on a global average.
#1 - Football
Also known as soccer in some countries, football is the most-watched sport today, hands down. It's hugely popular in Europe and South America, but it's enjoyed on all continents. Because it's so prevalent in so many places, it's also a perfect sport for betting. Bets can be as simple as winning, drawing, or losing.
However, the options get more complicated when we factor things into throw-ins and corner kicks. Even the number of yellow and red cards is subject to gambling. One must have a solid knowledge of the sport to place bets like that successfully.
#2 - Tennis
Tennis is surely among the most popular sports among bettors. Betting on results is a bit simpler here, as there isn't a draw in this game. Fans can take their chances on the result of sets and games. The Top 3 players of this sport have been on top for nearly two decades now. So, it isn't very difficult to guess the result of a match between them and an outsider. Live betting has led to an expressive increase in tennis betting lately.
#3 - American Football
In the United States, the popularity enjoyed by the NBA is only seconded by the NFL. Fans of this sport spend massive amounts of money every year. In fact, bets on the NFL make up almost half of all sports bets in the country.
The Super Bowl broke its own record in 2018, with a volume of $158.6 million in bets for a single season. Last year, about 26 million people wagered on the league at some point, with an expressive number of online and mobile participants: 5 million.
#4 - Basketball
Basketball is widely popular in the United States, and the NBA is still the most prestigious league in this sport. However, other collegiate leagues are attracting bettors' attention now, in Europe and other parts of the world. So, it's a sport with a lot of fans and viewership, consequently attracting huge volumes of bets.
Estimates from the American Gaming Association account that about 10 billion dollars were wagered in a single competition. Typically, basketball bets involve guessing the margin by which a team must win or lose. This kind of bet is called "spread betting".
#5 - Cricket
Cricket isn't as popular as football. Indeed, it's barely played in many countries. Still, it's pretty popular in countries like England, India, and Australia, and the betting volumes are tremendous.
In 2019, only one betting platform in England registered a betting volume of $22 million for the final of the Cricket World Cup. The match was between India and Bangladesh. The final for the Indian Premier League saw an even higher amount of cash on the same platform. It was £71 million in the match between Chennai Super Kings and the Mumbai Indians.
Conclusion
Regardless of your preferences, it's essential to be knowledgeable about the sport on which you want to place your money. It's also advisable to leave emotions aside and go for the favourites. Stay tuned with the latest news about your sport, gamble responsibly, and above all, have fun!