Bookmakers and online sportsbooks offer their clients various types of sports betting bonuses. These range from welcome bonuses and no deposit offers to free bets and bonuses on losses. Finding the

There are occasions when we here at ReadyBetGo want to bring you interesting facts about the gambling industry When something catches our eye, we will publish it for your enjoyment.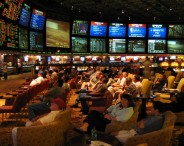 best sports betting bonuses isn't easy, but it can be done if you know what you are looking for. This is very similar to other forms of business as well. Compare pph service providers if you want to find the best one or compare bookmakers if you want to find the best odds. In this article we will look at the most common sportsbetting bonuses offered by online bookmakers and how they compare to each other.
Welcome Bonuses
Welcome, or also known as signup bonuses, are issued by almost all online bookmakers. To be eligible for one, you have to register with the sports betting provider. Immediately after registration the bonus will be issued.
These bonuses can come in two forms. The first, and more common one, is the percentage bonus. This bonus is given when you register for the first time with an online bookmaker and it is actually a percentage of your first deposit. It is usually 50% to 100% of the initial deposit and it is designed to help first time clients make bigger bets.
The second type of bonus is a cash bonus. When you are given a cash Welcome Bonus you are actually given a fixed amount of money which you can include in your wager.
No Deposit and Free Bet Bonuses
No Deposit bonuses are also very common among bookmakers. They are a variation to the Welcome Bonus because they are issued after you register with the bookmaker. However, if in the case of the Welcome Bonus you were required to deposit some money first and then get the bonus, with the No Deposit bonus you don't have to put down any of your own money.
No Deposit bonuses are great for people who want to check out a new betting provider and see if they like their offer. However, a betting enthusiast should also know that often there are some additional requirements to being eligible for a No Deposit bonus.
Free Bet bonuses, as the name implies, are wagers which you can make for free. Free bets are often given during special sporting events such as a World Cup, the Super Bowl or the Champions League Final. To be eligible for a free bet you usually have to have made several bets with the bookmaker already.
Bonus on Loss
This is one of those bonuses that you hope that you are not going to get while your bet is still active, but you are happy that you got after your bet turned out to be a losing one.
If you are eligible for a Bonus on Loss it means that your wager was close to being a successful one, but that you were unlucky and lost by a small margin. It is issued to help you in the grieving process and to encourage you to try your luck and knowledge once again.