As new legislation is passed in different states across the country, online sportsbooks are on the rise in the United States. As of March 2021, 25 states have legalized sports betting, with most

There are occasions when we here at ReadyBetGo want to bring you interesting facts about the gambling industry When something catches our eye, we will publish it for your enjoyment.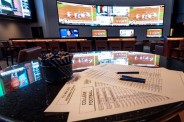 of them also legalizing online sportsbooks and all but 5 currently running operations. On Super Bowl night, states like Nevada and New Jersey reported huge profits, and, according to Wall Street banking giants JP Morgan, the US sports betting market could hit US$9.2 billion by 2025.
With the Covid-19 pandemic, several brick-and-mortar sports betting venues were forced to shut down and online sportsbooks became the only option for American bettors. Online betting was already responsible for the majority of wagers in 2019, but, with lockdowns and social distancing measures, this difference was accentuated in 2020, and states that offered online betting performed significantly better.
Even though online sports betting is not yet legal in the whole country, some states like New York are about to pass new legislation that will regulate online sportsbooks and mobile betting, and are also expected to make a profit in 2021. This resource lists all regulated sportsbooks available in the United States.
Big profits
In 2018, when the US Supreme Court overruled the Professional and Amateur Sports Protection Act of 1992 and revoked the federal ban on sports betting, several states began passing legislation concerning online gambling and decriminalizing the activity.
Since then, the online betting market reached a massive status, growing at a striking rate. In 2019, the first full year of legal sports betting in the country, the American Gaming Association (AGA) reported that a total US$13 billion was wagered, a 100% increase in comparison with 2018.
In October 2020, Americans legally bet almost US$3 billion in a single month for the first time in history, according to AGA. Total sports betting revenue was up by 54% year-over-year to US$237.5 million in the whole country. In December, New Jersey set the national sports betting record for the fifth straight month, taking an astounding US$996 million in bets.
On February 7, the NFL season came to an end as Super Bowl LV was played in Tampa Bay. This concluded one of the most lucrative seasons for sportsbooks in football betting history. According to a report released by the Nevada Gaming Control Board, more than US$136 million was bet and the state netted more than US$12 million with the Buccaneers beating the Chiefs. This was 12% less than last year's Super Bowl, but still one of the largest since bet tracking began in the state.
States that recently regulated sports betting also reported profits on Super Bowl night. New Jersey collected almost US$120 million in bets, a 116% increase from last year's game. After losses on their first two Super Bowls with legal betting, sportsbooks in New Jersey netted more than US$11 million on Super Bowl LV. This was also the first Super Bowl with legal betting in Illinois, and the state's books reported US$45 million in bets with profits around US$7 million. Finally, Pennsylvania sportsbooks collected a net of almost US$10 million with the Bucs covering the 3-point spread.
In 2020, for the first time in history, Nevada wasn't the state with the largest sports betting handle in the country. Despite having a decades-long head start on other states, the Silver State was surpassed by New Jersey, where sportsbooks amassed more than US$6 billion in betting handle, over US$1.6 million more than Nevada. This increase is attributed to New Jersey's mobile betting, which accounts for more than 80% of the state's total revenue.
The future is mobile
The future of sports betting in the United States looks bright… and mobile. As cities went under lockdowns, due to the Covid-19 pandemic, and people were forced to stay home to comply with social distancing measures, most land-based betting venues were shut down. This led to an increase in online sports betting and several states speeding up approvals of online betting. In January 2021, Virginia, Michigan and Iowa launched their online betting markets, and there's a good chance Maryland, South Dakota and Washington will start taking bets in the following months.
Facing a massive budget deficit caused by the pandemic, New York Governor Andrew Cuomo announced in February, at his annual State of the State address, that he would authorize the implementation of mobile sports betting in the state. Under his proposal, the New York State Gaming Commission would issue requests for proposals, or RFPs, to select and license operators to offer online sports betting in New York. Currently, the state only allows in-person betting in retail casinos upstate.
With huge revenues and profits in 2020, and new markets developing, the United States sports betting industry is expected to be even more competitive in 2021. As more states regulate their online betting markets, new efforts are being made in Massachusetts, Georgia, Ohio and North Carolina to enact sports betting and launch their own markets.