On May 14, 2018, the Supreme Court finally lifted the federal ban on sports wagering in the US, paving the way for individual states to legalize, control and regulate sports gambling at a local level.

There are occasions when we here at ReadyBetGo want to bring you interesting facts about the gambling industry When something catches our eye, we will publish it for your enjoyment.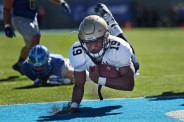 Since then, a number of US states have already passed laws to allow sports gambling within their borders and many more have started the ball rolling. But what impact will legalized sports betting have on online gambling as a whole in the USA? We take a look at some of the possible consequences of a more relaxed approach to gambling in America.
Gambling opportunities still limited in the USA
Ever since the first state constitutions were drawn up, the USA has taken a hardline approach on gambling. Rather than attempt to regulate the many casinos, betting parlours and card houses that already existed, they just banned them outright. Some laws have since been relaxed but for many years, gambling opportunities for many Americans have been restricted to lotteries, charitable games and pari-mutuel horse or greyhound racing. There is limited casino gaming with most of the country's casinos operated by Native Indian groups in accordance with the Indian Gaming Regulatory Act of 1988.
The online gambling conundrum
In recent years, the rules and regulations regarding online gaming have been a little vague with many states having no laws in place to control or regulate online gaming. As a result, many gambling websites, particularly offshore ones, have been accepting wagers from players in the US. Some states have taken measures to prohibit online wagering. Some have no laws to stop residents from wagering online at all. While in others, online gambling remains a grey area.
Planet 7 online casino review
Planet 7 is a typical example of the type of online casino that is popular today. They specialize in offering a full range of real money casino and slot games in a reliable and secure gaming environment. The site uses the latest software to provide excellent graphics, digital sound quality and a user-friendly interface. For the modern gambler who enjoys playing from the comfort of their own home, this is the kind of experience they have come to expect. Sports gamblers in the USA will expect a similar high-level experience and many established sports books from Europe and elsewhere are ready and waiting to step into the marketplace.
And this is why the legalization of sports betting could change the way that online gambling is treated. Most sportsbooks operate in the online environment and any states that legalize sports betting may need to open the door to other forms of online wagering in order to maximise potential revenue. In theory, any state that allows online sports betting should naturally want to offer the full range of online gaming.
The European model
If we look at the open wagering market that exists in much of Europe as an example, we see that many of the top sportsbooks also offer a full range of online games such as casino, poker, slots and bingo - they just go hand in hand.
It hasn't always been that way, as European sportsbooks and casino sites used to be run as separate entities. But the opening of the online markets (and mobile betting in particular) brought them together in a very natural way. If the US is going to experience an online gambling boom, it is only natural to assume that a similar convergence will occur. Any state that restricts sports betting to brick-and-mortar establishments is going lose out.
The current state of play
Online gambling already exists in the USA but few states are on the same page when it comes to rules and regulations. There is a lack of a consistent message among casinos and lawmakers have struggled to understand the intricacies of online gaming legislation in the way that Europe has.
This was clearly demonstrated earlier this year when the US Justice Department reversed its position from 2011 when it stated that the 1961 US Wire Act only applied to sports wagering. They have now expanded their interpretation to include all internet gambling that involves interstate transactions. Legal challenges are already being made to this decision.