Due to restrictions on sports betting within the country, many punters in Canada are turning to offshore online sportsbooks to place wagers on a huge variety of international sporting events from the

There are occasions when we here at ReadyBetGo want to bring you interesting facts about the gambling industry When something catches our eye, we will publish it for your enjoyment.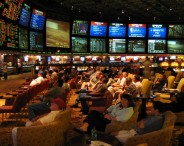 Premier League to World Cups. In a country with a rich gambling history these restrictions are unusual, but they are not unwelcome and they are backed by sound logic. In Canada, placing a wager on a single sporting event is not allowed, so punters have to place bets on a minimum of 2 matches, creating a parlay.
Parlays aren't all bad though, they do offer enticing payouts as they are more difficult to correctly predict, but if you get just 1 prediction wrong, your whole ticket is lost. This is just one of the many reasons why punters in Canada are turning to international sportsbooks as well as international sport.
To put it plainly, the type of sports betting available within Canada is an inferior product with a limited range of wagers and types of sports. It is easy to understand why international sports betting and the NZ betting available at is so attractive to punters in Canada, as the options are virtually limitless. In fact, it is estimated that Canadians wager approximately $4 billion yearly with online sportsbooks based in Europe or otherwise.
A quick look at any of the online sportsbooks open to punters from Canada will further clarify this betting phenomenon, as there is a virtually endless list of sports to choose from with a massive variety of wagers. Premier League, NBA, and NFL betting are particularly popular amongst Canadians, as are their favourites Ice Hockey and Lacrosse. Of course, if Canadians were to only bet on Ice Hockey and Lacrosse, they would soon run out of options, and as such many punters have taken up international sports betting.
The Legality of Canadian Online Sports Betting
Online sports betting has existed for almost 20 years, and in that time millions of Canadians have at one point or another had an account with an online sportsbook based offshore. In fact, punters from Canada make up a good percentage of these online bookmakers customer base, ranging from 8-15% depending on the sportsbook, which is higher than almost any other country. There is no legislation in Canada which details the legality of online sports betting with offshore bookmakers, and as such, an incredible number of punters frequent these sites on an almost daily basis.
This legal grey area makes online sports betting from Canada even more attractive, as there is no need to jump through any nefarious hoops to place wagers on your favourite international match ups. In fact, to date there has not been a single offshore bookmaker who has been prosecuted for offering their services to Canadians, so there is no need to be wary of participating in online sports betting.
Making the Most of the Grey Area
If you're keen to get started with big money international sports betting from Canada, we have some good news for you. There's a fantastic variety of online sportsbooks set offshore who accept wagers from punters in Canada, and you'll be on your way to placing wagers on your favourite Premier League match ups in no time.
Creating an account is quick and easy, and only requires the most basic of information and a method of payment. Once you have created an account and made your first deposit, be sure to take advantage of the lucrative sign up bonus which will be afforded to you, as this will really boost your betting power. Once you've got a fat and happy bankroll, browse the immense range of international sports betting options and take your pick.