Gaming is social now more than ever. There are lots of online titles that have millions of players taking part in matches as teams. People can choose to take part in them or just watch those matches

There are occasions when we here at ReadyBetGo want to bring you interesting facts about the gambling industry When something catches our eye, we will publish it for your enjoyment.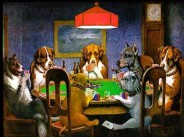 from the comfort of their homes.
Thanks to platforms like Twitch and YouTube anyone can create a channel and share their online gaming experience. Even Facebook's launching a live-streaming app so players will have more platforms to choose.
Since the terms social and online games go together it's no surprise why so many players turn to online casinos. They offer many games, bonuses, and prizes to players and make sure to keep up with the latest trends. This is why social casinos and casino games were born.
Anyone can enjoy these games on social media or through apps on their phones. They're also available for PCs. There are lots of social gambling games out there so here are some you might come across:
Poker
Poker is one of the most popular casino games which is why it's also a popular social gambling game. It's a game of skill and patience but it's also one you can enjoy with friends at home or online. Facebook offers Zynga poker to registered users where you and your friends can join a table and test your skills.
If you're looking for the real thing then you should try online poker. However, ignore the people that say it's a scam and it's impossible to win as those are some online poker myths you'll come across.
Bingo
Bingo is a rather old casino game that's widely known for how social it is. Playing bingo is considered a family activity in some households. Some countries offer if in bingo halls where both young and old can take part. Playing bingo is also a group activity in nursing homes.
You can gather your friends for a round of bingo at your home or visit a local bingo hall if you have them. You're guaranteed to have a good time playing bingo and make some new friends while you're at it.
Roulette
This next game is somewhat similar to bingo in that you have to guess where the ball lands on the wheel. The difference is that bingo games don't usually use a roulette wheel. Placing the bets on the numbers is something that any player can learn easily.
Because of this lots of people play roulette as a social game. Since not a lot of people own a roulette wheel at their homes you can find a good app that will connect you and your friends for a few rounds of social roulette.
Blackjack
Why should you face the dealer alone when you can bring in your friends for a ride? Blackjack is another card game that's a popular social casino game. It's relatively easy to learn and once you get the hang of it you'll have fun playing it.
Lots of online casinos offer this game and if you're looking for the casino experience from the comfort of your home, try a live blackjack game. Social interaction is only of the many reasons why live dealers are so popular.
Conclusion
These are only some of the many social casino games you'll come across. There are lots of social online casinos as well as apps you can download and use. The main thing is to find the one that suits your needs and spend lots of hours of gaming with your friends or family. Having fun should always be a priority when searching for social casino games.