For many years, the sports betting and gambling industry has continuously made an effort to provide the most dependable wagering games it can offer. All those efforts are paid off as most of the states

There are occasions when we here at ReadyBetGo want to bring you interesting facts about the gambling industry When something catches our eye, we will publish it for your enjoyment.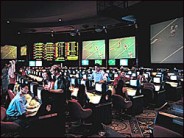 Caesars Palace Sportsbook in America have successfully legalized this kind of practice. Although not all places are fully allowed to operate gambling games, this industry is heading in the right direction.
Two of the most popular gambling games that punters play are sports betting and slot machines. Literally, sports betting are ventures you can risk for popular sports like horse racing, football, and baseball. While slot machines, either online or land-based, are considered as a "game of chance." You only have to be lucky that the same pattern will appear on what's initially displayed to hit the bullseye.
While it's true that these two can bring massive opportunities of earning when done correctly, not all punters wanted to take the same path. Some are into sports betting, while some dedicate most of their time and budget to slot machines. Do sports betting work better and bring more money than slot machines, or is it the other way around?
Betting On Slot Machines
These days, there are many types of slot machines you can play. As stated, it can either be land-based or online. Either way, if you get lucky and the stars are aligned to be in your favor, you win all the way. The rule is simple, you must have the same pattern appearing on the screen when it stops rolling to win the jackpot amount set by the oddsmaker.
Although this is easy gambling to play, volatility and variance are always attached to it. It means that there is a higher risk you face than other types of wagering, such as sports betting. You all can win it all or lose everything you have. There is also no formula or usual pattern you can copy because the reels are moving depending on what's destined to pop-up.
Betting On Sports
Sporting events like football, baseball, and horse racing have existed for so long, yet the betting games are newly introduced to the market. Before, fans would only love to cheer on for their favorite bets, and no money was involved. But, today, this is the sole reason why these sports are oozing in popularity and demand.
Unlike slot machines where you need to form the right pattern, sports betting allows you to pick a deserving entry to bet on a specific category. The categories come in many ways, and prizes can vary. Apart from that, you also have the chance to study the form of every player before betting on them.
One of the greatest advantages of sports betting is the variation of amounts you can gamble. You can start with a dime compared to slot machines that a minimum amount is required to layout.
Takeaway
Whether you are a pro or first-time bettor, betting on slot machines or sports has plenty of earning opportunities. Indeed, both of these gambling industries don't have a winning formula to follow. You only need skills such as mastery, proper research, and luck to achieve your goal of boosting your bankroll.
Hence, if you wanted to find out which of these two is better, it's up for you to find your comfort zone. Whatever it is, as long as you know what you are risking, you should earn no matter how the circumstance looks. If you are looking for places to try your luck at slots, the online world has plenty to offer.