The 2023 Preakness Stakes is fast approaching, and we have so many great horses in the lineup, and plenty of Preakness betting to enjoy ahead. Of course, there are few horses who will be able to live

There are occasions when we here at ReadyBetGo want to bring you interesting facts about the gambling industry When something catches our eye, we will publish it for your enjoyment.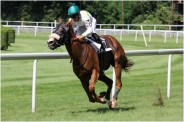 up to even being close to the standard of the Preakness legend.
Surely, you know who we are referring to? No? Don't worry, you will find out in just a moment.
There have been some brilliant horses run at the Preakness Stakes, but there has been one that no one has managed to beat in nearly 50 years, and if the time is not defeated this year, it will be a 50-year record!
The Preakness Stakes is one of the races of the infamous Triple Crown races, but it is an awesome event in its own right. So, who are the legends of the Preakness Stakes?
Let's start with the most famous and fast of them all!
#1. Secretariat
Of course, it was Secretariat in 1973. However, his time had a bit of an issue around it. You see, Secretariat was actually originally credited with a time of 1:54 ⅖, however, in 2012, it was finally recorded as being 1:53, which might not seem like a big deal, but it was actually a massive issue.
Nonetheless, Secretariat always has the fastest performance, his overall performance in the race was absolutely outstanding, he had a very dramatic burst of speed around the first turn, and it was this that carried him from last place into first, which carried him all the way to the finish
Even after he made his very early first move to the front, he was still able to print the last 3 16ths of a mile in an impressive 18 ⅘ seconds flat to defeat his also very talented rival, Sham, by an awesome 2 ½ lengths.
#2. Swiss Skydiver
It took over 25 years for us to even come close to seeing another horse anywhere near as fast as Secretariat at the Preakness Stakes. Amazingly, Swiss Skydiver is also a filly, and she ran the Preakness in 2020.
Because of Covid-19, the 2020 Preakness was held in October, which gave this young filly a bit of extra time to develop a more powerful performance that would lead her to close near Secretariat's time.
She ground himself modest early fractions of 24.48 and 47.65 seconds, but mid-race, she unleashed some epic moves that allowed her to seize command through 6 furlongs, in only 1:11:24.
From this position, she continued at a strong pace to the finish, and held off Authentic, who won the Kentucky Derby and won by a neck, with a time of 1:53:28.
#3. Tank's Prospect
Before Swiss Skydiver became the second-fastest horse, it was Tanks Prospect, who is now third. Tank ran in 1985, and he won a last-minute rally from behind. His fast pace carried him to a steady, and justified win at the Preakness Stakes.
This was also back when the race was timed in 5ths of a second, instead of 100ths. Tank's Prospect dropped into the back half of the field through splits of 22 ⅖, 45 ⅕, and 1:09 ⅖. However, he then went on to surge and catch the champion Chief's Crown.
He won by a head at 1:53 ⅖.
However, due to the aforementioned issues that surrounded Secretariat's timing, for a while Tank Prospect's time was originally a stakes record, but when the truth came to be that Secretariat was above this, Tank's Prospect dropped.
#4. Louis Quatorze
A fast pace was what made Louis Quatorze gain his victory in the Preakness Stakes of 1996. Louis Quatorze was the one who set the pace, he ended up rebounding from a 16th-place finish in the Kentucky Derby, and he dashed quickly to the front through splits of 23:04, 46.21, and 1:09.90.
Then he went on and repelled a challenge from the future Hall of Famer, 'Skip Away', and kept on going to win the race by 3 ¼ lengths in 1:53.43. Making him only just behind Tanks Prospect.
#5. Curlin
Finally, we take a look at Curlin, who secured the 5th place on our list through a blazing pace down the field. He ran the 2007 Preakness Stakes.
After he dropped around 13 lengths of intense fractions including 22.83, 45.75, and 1:09.80, Curlin came barreling in from the pace to take down the Kentucky Derby winner he faces, 'Street Sense', by only a head, giving him a final race time of 1:53.46.
His rapid time showed his talent and he even went on to win 2 Horse of the Year titles after this!
Overall
There have been many epic horses who have won the Preakness Stakes with intense speed. However, few will ever live up to Secretariat. We only wish that his true time was discovered sooner, It is a real shame that it took nearly 40 years to uncover the truth of his speed!