Over the past few years, most of the world have had changing attitudes toward gambling as a whole, as it has become much more accepted in different parts of the world, particularly in the west. One

There are occasions when we here at ReadyBetGo want to bring you interesting facts about the gambling industry When something catches our eye, we will publish it for your enjoyment.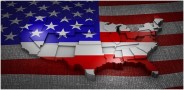 of the big holdouts for widespread ease of access comes in the US however, as although certain aspects of gambling such as sports betting and fantasy leagues have become more common, many states are still very restrictive on what they do and don't allow. Whilst a number of states have active bills that can be tracked through places such as https://www.legalbetting.com/bill-tracker/, many will take a long time to receive a hearing. But which states are currently in limbo, and which may be the most likely to receive some regulation change to allow online gambling?
Alaska – With two bills already passing in 2020, namely allowing Alaskans to buy lottery tickets for sports gambling, and third is being eyed for 2021 that will broaden these bills to allow a broader scope in online betting. Like many other states, this may be specific to sports betting as online casinos remain somewhat frowned upon, and much of this is only speculation for 2021, but there could be big changes here.
Kansas – In a similar move, there has been a long-fought battle to try and bring sports betting to the people of Kansas, with a similar method of having sports betting through lottery styled tickets. Once again with many hoping that 2021 could signal some bigger change following a bill that hadn't been addressed following its posting in 2019.
Vermont – In a different approach from others, the Vermont bill didn't approach betting in the form of lottery tickets but instead took a focus on mobile betting but with strict measures to ensure players are based in the state. The bill permitted betting on sports so long as they were high-school, college, or university events, and also banned all betting on esports.
South Dakota – Similar to Vermont, a proposed bill called for changes in gambling laws for primarily online and mobile betting with a focus on professional sports although casino games had also been mentioned in the bill too. With the bill set to take place in 2020 but the ongoing coronavirus pandemic causing delays, a vote could occur in 2021 and South Dakota could be one of the few American states to allow legal online betting in 2021.
Whilst these states all seem to be making efforts to move toward a more open online betting landscape, albeit with some bigger restrictions, there are many other states that are perhaps less likely to introduce or pass any new bills either and the restrictive laws around betting and gambling as a whole will likely remain.
California – There had been attempts to pass a bill earlier this year, but coronavirus delays had pushed it back. Native tribes have long held the exclusive rights to gambling within the state and much of the backlash from the bill this year came as many believed the poor wording could lead these native tribes existing policies to be undermined. However, with suggestions that California stands to gain the most financially from a more open sports betting market, it's difficult to say that it wouldn't be a consideration following this pandemic. It's certainly a tough topic given the existing exclusive rights, but with an opportunity to re-address the bill in 2021, the financials may outweigh other factors.
Wyoming – There have been a few bills raised in the state in an attempt to approach gambling and betting in different ways. Lottery systems as within other states, mobile betting, betting that excludes college and high schools. Each have failed and been voted against including the most recent in 2019, there are hopes another bill will take its place, but given the history of voting it's unlikely this will change any time soon.
Georgia – A bill introduced in 2019 took another unique approach to the legislation too as it focussed mainly on sports betting and forgoing much discussion around online casinos. The proposal was that the industry would be closely regulated and only a limited number of gaming licenses could be given out per year, much like other countries such as Italy. Although still under consideration, there's no definitive understanding of when this could move forward, particularly in the midst of the pandemic.
Alabama – There is already some existing regulation around betting and gambling within the state as certain sporting events and college events were successfully regulated. There has been some suggestion that this scope could be expanded for other gambling elements and a hefty tax return associated with it too, but as it stands there is little information around when this could move forward.
The whole process certainly sounds much more complicated than it needs to be, particularly as it can often take a long period of time for any movement to be seen within a specific bill. With different forms of online gambling and betting already being legal in 23 states within the US,it can be a little confusing to understand why it isn't explored more often.Even the most open states such as Nevada do have very particular rules around protecting the existing gambling infrastructure with a little more rigidity in moving towards an open online gambling space.
It's also difficult to underestimate the impact that the coronavirus pandemic will have on the situation for many states too. There has been a big financial hit for many and a long path to recovery ahead for the states, with the revenues from online betting and gambling being so high and the ability to tax the market, it may lead many to be more open to the suggestion of allowing betting for an economic recovery. Particularly in the states that may have been a little more open to gambling in the first place, it may just broaden the scope of the existing bills, but that won't be clear until at least the middle of the year of 2021.