When we asked players what is the first thing they check in online casino, the common answers were: the license; that it's fair; the bonuses; game selection, its history and so forth. Only

There are occasions when we here at ReadyBetGo want to bring you interesting facts about the gambling industry When something catches our eye, we will publish it for your enjoyment.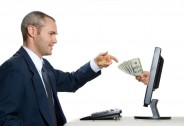 very few answered – the speed of payouts. Obviously, all those answers are correct, in some way, but only the last one can give us the confidence we need to start playing.
We live in times when most people go from one thing to the next and don't stay on one page for more than 1 minute. Therefore, we'll start by explaining why the payout speed is so crucial, and then debunk some myths about casino license jurisdictions, bonuses and so forth.
Why Speed Matters
The reason why withdrawal speed is so important (and needless to say that we mean the actual withdrawal times and not just the info listed on the casino banking page), is not that we are anxious to go for some exotic vacation or buy a new car, but because it gives us the most precise information about the level of trustworthiness and professionalism of the specific casino site.
Fast payouts mean that first, the casino is financially stable with deep pockets. Second, it is fair – meaning they don't delay the payment hoping that you will lose it back. Third, they have strong and professional support – otherwise they wouldn't be able to handle the payouts in such a quick manner. Of course there are other things to check as well, such as the games it offers, but at least we know that we are in good hands.
Question arises: How can one check that the casino pays fast?
We obviously don't suggest that you to start testing every casino online. There are sites that do exactly that. For example, Instantwithdrawals.org, which specializes in testing and listing fastest payout casinos by country, casino software and even specific payment method.
Now, that we covered the main part, it's time to debunk some old myths:
The Truth about Casino License
We may angry few guys in the Caribbeans, but not all casino licenses are worth the paper they are written on. The truth is that in most cases, they won't be able to protect you. There are few exceptions such as UK Gambling Commission, Malta and some others which actually do their job. In any case, when I'm playing slots or blackjack online I want to have fun. Chasing my winnings trough some jurisdiction is not something I consider fun.
To make things clear: we are in no way suggesting to ignore this parameter completely. You should play only in casinos that had the courtesy to purchase a license, but it's far from being the safety net most players believe it to be.
Good Bonuses vs. Bad Bonuses
Bonuses are fun. Bonuses are good. How can something called "bonus" be bad? Well…it can. In fact, most casino bonuses will lower your chances of winning. We'll need at least few pages to cover this topic, but just in few words:
Don't take sticky bonuses – meaning the ones that are deducted before withdrawal.
Don't take bonuses that have maximum withdrawal limits (unless those are free chips).
Don't take bonuses with wagering requirements above x50.
Bottom line
Gambling is great. It's fun and exciting, but you should gamble at the table or at the slots, and not with the casino you choose to play at.