Choosing an online casino may seem like a pretty straightforward choice. However, there are several things to consider before choosing where to wager your hard earned money.
Take sportsbooks as

There are occasions when we here at ReadyBetGo want to bring you interesting facts about the gambling industry When something catches our eye, we will publish it for your enjoyment.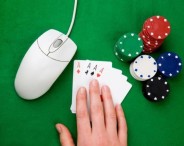 an example. You always have an option to go with obscure sports betting providers, but chances are that you are going to choose sports betting vendors which offer enticing Sportsbook Bonuses.
In addition, more prominent sportsbooks also offer a bigger variety of Sports Betting Contests when compared to the lesser lights of the industry, so again, chances are that you are going to choose the more reputable sports betting provider if given the choice.
The same goes for online casinos. And if anything, the choice of online casinos is much bigger than the choice of online sportsbooks, so you won't have to look far to find the best one for you. Let's look at a few tips which might help you in your search.
Check the License
An online casino must have a license in order to operate. Different countries have different laws regarding online gambling, which means that if you find a casino operating from some heavily regulated country, like most casinos operating from Europe are, then you have hit the jackpot.
This doesn't mean that online casinos which are licensed in some small offshore country are not reliable. In fact, most casinos these days choose countries like the Netherland Antilles to legalize their business due to their lax online gambling laws.
The casinos that you should definitely stay away from are the ones who either don't show that they possess some sort of license or the ones who possess a license, but still find a way to break the law.
An example of the latter would be a casino which is regulated in an offshore region such as in Curacao in the Netherland Antilles, but still allows US residents to frequent its premises even though the law in Curacao does not permit this.
Look for Enticing Bonuses
After you have verified that a casino works legally and is reliable, you should start looking for the casino with the biggest bonuses. This is not easy as most online casinos offer bonuses these days and it is difficult to separate the wheat from the chaff.
Our advice is to always look for high yielding welcome bonuses. These are usually the most enticing bonuses which online casinos offer.
In our search for the highest welcome bonus we have managed to find some huge bonuses, and trust us when we say that getting a 100% bonus on your first deposit of up to $700 is much better than 20 free spins.
Read the Small Print
Before you start gambling at any online casino always read the small print in their Terms and Requirements section.
Some casinos take huge provisions on your winnings, some will delay your payouts for as long as a month, and some will try to protect themselves by exposing their customers and their deposits. Always familiarize yourself with an online establishment before you start gambling your money.