As you eagerly click to claim your casino bonus, do you stop to wonder how the idea of these encouraging little extras began? No? Well, we're going to tell you anyway.
When the online casino

There are occasions when we here at ReadyBetGo want to bring you interesting facts about the gambling industry When something catches our eye, we will publish it for your enjoyment.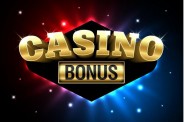 industry first began, there wasn't a lot of competition as the idea was extremely new. But as online casinos started to rapidly progress, more or less taking over the gambling scene, different sites had to come up with ideas to keep people coming to them over all the other competitors, bringing about the need for incentives and bonuses.
The concept of the "sign-up" or "welcome" bonus was first introduced to do just that, as well as attract new players. In their initial forms back in the late 1990s to early 2000s, online casino bonuses were far more generous than the offers you will find today, giving players a much bigger chance of walking away with at least a slight win. The bonus also served as a confidence booster, in an attempt to reduce the perceived risk of trying something "new" like online gambling. There were also considerably less associated terms and conditions, presumably because all risks and errors had not been discovered considering it was still such a young invention – but also because of their sheer desperation to get people playing.
While the basic principles of bonuses has remained the same – a player deposits a small sum of money initially and is consequently rewarded with a bonus which is generally equivalent to or greater than their deposited amount – the rules have undoubtedly become more complex due to increased competition, numbers of casino players and a certain level of bonus abuse. On top of this, legislation has since been changed, along with regulations which further govern online casinos with a huge pressure to comply with such guidelines.
Welcome bonuses began as a relatively insignificant addition to online gambling, however they now rule the way some players begin playing. A player will be required to place a specified number of bets before they can cash out any winnings that were obtained while playing with the bonus money earned, a tactic devised to keep players active on the site beyond the limitations of a free bonus reward – this is now known as a wagering requirement. What this means is that if you were to deposit £100 and receive a 100% match bonus of £100 with a wagering requirement of 5x the bonus and deposit amount then you would need to place enough bets to total £1,000 or more before you can cash out any money. Of course, the limitations may not be this grandiose, but it's worth noting that, in most cases, the higher the bonus the higher the amount you will be expected to bet upfront before you are permitted to withdraw.
As well as these joining and in-game bonuses, online casinos have also begun to introduce, and emphasise, "loyalty" and "VIP" programmes which offer players loyalty points and incentives for playing certain games and tournaments. These were a concept first implemented in in-house betting shops but, much like most things, gradually made its way into the online realm.