The online gambling industry has seemingly moved from strength to strength during the pandemic, there had been some initial challenges to overcome as the cancellation of major sporting events hit the

There are occasions when we here at ReadyBetGo want to bring you interesting facts about the gambling industry When something catches our eye, we will publish it for your enjoyment.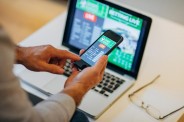 betting industry hard, but with the fall back on online casinos for many operators to stay steady, the recovery has been extremely quick - with most major sports having already come back to the screen, fans are looking at the other changes that have occurred during the pandemic.
The first big change had come in the way of a ban on online betting with the use of credit cards in the UK - the change had been aimed at reducing the risk of problem players accumulating credit card debt whilst gambling, leading many to have to seek alternative forms of payment, and this ban extends across the industry for betting and gambling as a whole. There had also been a short term ban on advertising for these services to restrict the amount of players exposed to the advertising amongst temporary changes for other countries such as deposit limits.
The big change had been seen within the Gamstop initiative - aimed at problem players, the self inclusion scheme effectively blacklists players who decide to register from being able to access gambling sites. The change that came was the initiative had been made mandatory for all UK based operators to register to or be at risk of losing their gaming license, this has concerned some as it may reduce the number of services players can use who may not be registered with the scheme but don't agree with the measures taken - there are a growing number of operators choosing to register elsewhere however in countries such as Malta and Gibraltar in order to avoid participation in these initiatives, there is a growing number of sites not registered with gamstop and this list of them are some of the most popular providing players with plenty of diversity.
The next big challenge facing the betting industry particularly in the UK and Europe will be with Brexit. With many operators choosing to register in these different European locations there may be some restrictions to overcome for players as there may be restrictions on how these online operators can promote and operate with different regulations and consumer protections in place - an example of something similar that has happened recently has been within the introduction of GDPR and how there had been a bit of a difference in requirements for different countries whether they're inside or outside of Europe. Fortunately for the industry though there's a lot of interest heading back in - esports betting is at an all time high as viewership and player numbers have increased during the pandemic, and with most major sporting events in both Europe and the US finding their return with few restrictions now and heading to the new seasons in September set to begin too, the expectation is that these changes may not have too big an impact as player retention and participation stays high.