Cancellations and postponements everywhere we look as we see some of the biggest events of the year either axed or moved - the Olympics have been pushed back until next year as with the Euro 2020 event,

There are occasions when we here at ReadyBetGo want to bring you interesting facts about the gambling industry When something catches our eye, we will publish it for your enjoyment.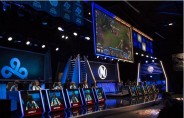 and Wimbledon has been cancelled entirely. This has caused some issues for the betting industry - the reliance on sporting events to take place has meant many in the industry have begun to voice struggles over whether or not they will be able to survive as the cancellations continue and regular betting comes to a halt, however there has been a silver lining for those in the market.
The first spot of good news comes through the rising online alternative in esports - the viewer and betting market for esports has been seeing a huge year on year growth which is fully expected to continue going into the future, and although there have been some cancellations to international events as well as some domestic, the vast majority of events and competitions are still continuing without disruption as the online platform has proven invaluable. The players are simply playing from home as they would do with most online tournaments, commentators and casters are joining through conference calls and using spectator tools along with a continuing strong production value as the process to broadcast these events across popular platforms such as Twitch remains the same. For those looking to take advantage of betfair sign up offers, esports may be an area you've overlooked until now - with a huge variety of games that are on offer to be played, teams competing from different regions across the world and even recently with new game releases and small community ran events, there's always something going on. For those new to both esports and esport betting, there is also a huge catalogue for previous events and broadcasts, as well as plenty of information out there on what or who to look for in a strong team so the waters don't feel all that deep when dipping your toes in.
Another market that has been doing extremely well has been the online gaming and casino industry - where brick and mortar have been struggling amidst the shutdown, online casinos have only shown strength - many of the betting operators also run an online casino alternative and have been able to prop themselves up with the service. Even without the outbreak forcing many of us to remain home and look forward alternative ways to spend our time, online casinos have been performing extremely well for the last few years as mobile gaming has absolutely exploded and become one of the strongest and fastest growing markets in the world, and this increased usage will only see that trend continue to grow.
There's still a lot of uncertainty around just how long this could continue on for - some areas within Europe are beginning to see a small easing of their lockdown measures however as this will continue through stages, it's still looking likely that it will be a number of months before many return to what could be considered 'normal' - during this time it's likely that we'll continue to see increasing usage of mobile and casino betting services to serve as a distraction from everything else that is happening around us.