New Hampshire is the latest state to legalize sports betting after Governor Chris Sununu signed a law proposed by state legislators a few months ago into law on Friday 12th. New Hampshire now joins

There are occasions when we here at ReadyBetGo want to bring you interesting facts about the gambling industry When something catches our eye, we will publish it for your enjoyment.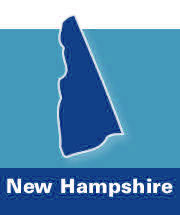 New Hampshire five more states that permitted sports gambling this year.
Governor Sununu expressed his excitement at the new law by saying he will place the state's first sports bet.
"The only rule is, I want to place the first bet," Sununu told journalists.
Betting fans in Hampshire will, however, wait until 2021 before they can officially start to wager on football, basketball, and other sports. A few more things to note about the state's new law:
A total of 15 licenses will be issued—the New Hampshire lottery department will award five permits to retail betting shops and ten licenses to online bookmakers. Licenses will be issued out through a competitive bidding process.
The legal betting age will be 18 years.
Betting on New Hampshire college sports event is prohibited. The state seems to have followed the lead of other states like Delaware and New Jersey that also prohibited betting on state-based sports teams.
In-play betting on remote bookmaker sites is permitted. For the uninitiated, in-play betting refers to placing wagers while a game is still in action.
Representative Timothy Lang, who proposed the bill, has vowed to advocate for an increment in the number of licenses issued.
New Hampshire targets to earn $11.5 million from sports betting revenue annually. In fact, governor Sununu added $10 million to his expected annual budget for the upcoming fiscal year.
New Hampshire's Betting Market
New Hampshire is joining the sports betting party for the first time. There were never casinos in the state, and gambling was strictly prohibited before the new bill. Many of the state's residents that wanted to gamble either traveled to Rhode Island or New England.
But with betting on the verge of being launched, the state's residents could start betting in the top Zamsino bookie sites in the world. Zamsino compares the best betting sites around the world and ranks them based on several factors, including their welcome bonuses.
Of course, New Hampshire will probably favor local startups with licenses. But after permitting online sports gambling, it may soon allow out of state bookmakers to offer their services to state residents as well.
Traditionally, New Hampshire residents flocked New England and Rhode Island casinos when their states had strict anti-gambling laws. But with the latest legislation, it will be neighboring state residents who may start to come to NH to bet.
Online Casinos in NH—A tough Path
New Hampshire's sports gambling law could have become law back in April. But a proposal to add online casinos to that package backfired. Susan Almy, who chaired the committee responsible for legalizing sports betting, was adamant about not bringing a casino to the state.
"It looks very clear that we are not going to be putting a casino in New Hampshire, Almy said back in April. "None of the casino companies want it (referring to local lotteries), and the house has been opposed to expanding casinos with slot machines."
Senator Lou D'Allesandro kick-started an effort to launch a casino in New Hampshire more than two decades ago. He's proposed the bill eleven times, with state representatives shutting down the proposal on every occasion.
Does that mean NH residents can't play online casino games? That's hardly the case. As aforementioned, people have been traveling to Vegas, New England, and Rhode Island to play slots and other games loved by celebrities and professional gamblers.
New Hampshire may prohibit online casinos, but it doesn't take action when residents join foreign casino sites. It's a similar case in Canada. You can claim no deposit bonuses in Canada regardless of where the online casino offering them is located.
The Canadian government won't prosecute you for gambling in a foreign gambling site. But if the gambling site set shop in Canada without authorization, it will be penalized.
States where Sports Betting is Legal
Nevada
Although it's no longer the only state that permits sports betting, Nevada leads the country in revenues from sports gambling. It's also lauded for its best practices when dealing with bookmakers and resolving ethical concerns in the industry.
Delaware
Delaware had prepared measures to license sports wagering months before last year's landmark ruling by the Supreme Court. The state finalized its law within a month of law's passing. But despite Governor John Carney describing his state's new law as "a full-scale sports gaming operation," Delaware only authorized single-game betting.
New Jersey
Former governor Chris Cristie advocated for legalizing sports betting throughout his term in office. His state also sponsored the bill that struck off PASPA last year. His predecessor, Phil Murphy, signed a bill legalizing sports gambling into law June last year.
Mississippi
Like New Jersey and Delaware, Mississippi began preparing to legalize sports gambling months before last year's ruling. After the decision, the state legalized sports betting. By August, Mississippi had a casino accepting sports wagers in person.
West Virginia and New Mexico
West Virginia authorized sports betting toward the end of August last year. The state permitted both land-based and online bookmakers under the new law. New Mexico, on the other hand, joined the sports betting fever after signing a pact with Nevada-based bookmaker US Bookmaking.
While New Mexico didn't make a law to legalize sports betting, it permitted US Bookmaking to offers its services to New Mexico residents.
New York and DC
New York authorized sports gambling on July 16th this year. There were efforts to permit online wagering, but the bill fell through. In DC, sports gambling became law on May 3rd this year. Gaming in the capital will be licensed at five locations.
To Conclude
New Hampshire is the sixth state to permit sports wagering this year. It joins Nevada, Delaware, New Mexico and several more states in the race to garner revenue from sports gambling. NH allows both online gaming and land-based betting shops, which places among states with the most progressive sports wagering laws.