It would be a gross understatement to say the COVID19 pandemic caught the world by surprise. Never in our imaginations did were ever think we would see a time and place where the world's population

There are occasions when we here at ReadyBetGo want to bring you interesting facts about the gambling industry When something catches our eye, we will publish it for your enjoyment.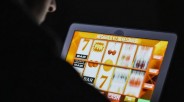 would be asked to wear masks and stay at home for months on end.
The challenge for most adults has been finding ways to keep themselves entertained while shuttered in their home. There is only so much cable TV and internet trolling that an active adult can bear.
While many of the world's most popular entertainment sectors have taken a major hit, there is one in particular that owes a debt of gratitude to the virus. That would be the online casino gambling sector.
For people who enjoy wagering on sports and visiting local casinos, the pandemic has created a lot of frustration. While some sports leagues (Premiere League soccer, Champions League soccer, MLB, NBA) are back in action with no live audiences, there are still many brick and mortar casinos that have yet to reopen. With so much focus on social distancing, it remains to be seen how and when customers can return to the casinos and sports stadiums.
That is nothing but good news for the mobile online casino gambling sector. As the "only game in town," many of the world's top online gambling operators are proudly reporting massive increases in both revenue and participation. What really has operators excited in the fact many of their new customers are new to the concept of online casino gambling.
What the Future Holds
It is worth noting that prior to the pandemic; the online casino sector was already reporting double digit percentage increases in activity. They were able to achieve this success over the last 10 years with small advertising budgets and plenty of competition from other forms of adult entertainment. What online casino operators needed was something that would drive novice gamblers to gambling websites. Well, they got what they wanted.
The question is, "will operators be able to hold onto their new customers when the competition returns?"
The answer would seem to rely on the fact that online casino gambling through a mobile device has quickly become a widely acceptable form of adult entertainment. The evidence for this contention lies in the fact that governments all over the globe are working towards legalizing such activities for its citizens. In some countries, the U.S. included, said legislation is already in place.
After factoring in the importance of having mobile access, it is a good bet that millions of people from all over the world are ready to include mobile online gambling as part of their entertainment arsenal. They seem to enjoy the idea they can play online casino games of chance for real cash anytime from anywhere they can secure a reliable data connection. For operators like GClub, that is incredibly good news.
The challenge for online gambling operators going forward will be finding ways to appeal to younger adults. They might have something to offer in the coming months.