Life is full of risk. Our ancient ancestors knew this down in their bones as they were weighing the odds of successfully capturing their prey or fighting off an enemy. The charge we get from the

There are occasions when we here at ReadyBetGo want to bring you interesting facts about the gambling industry When something catches our eye, we will publish it for your enjoyment.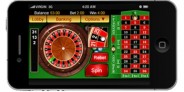 risk/reward connection is wired into our DNA. Even in our leisure, we looked for ways to capture that feeling. It began with dice and cards and then evolved into mechanical games like roulette and slots. Now the Internet has raised the gamble to the next level.
A huge leap in popularity of gambling was certainly made with the establishment of the Internet. The technology made classic casino games like blackjack, roulette and poker available without a trip to a casino. Now, the casino is only a few clicks away.
If you want to play from suppliers like Mega Casino, Euro Palace or 32Red Blackjack or Roulette, you simply go online and a few clicks later you are in a virtual casino. There's no dress code, hotel room, or problems with parking if you want to pursue your passion and play a hand of blackjack.
And that's not all. With evolving technology, the nearly ubiquitous availability of the Internet, and increasingly faster connections we are heading into the next boom, mobile gambling. Many people want to enjoy slots and casino games when they are away from home. They want to play when they are traveling or on vacation. They have also concluded Mobile casino pay by mobile bill to make the billing easy and possible.
New applications for mobile casinos
Most sites now offer a free mobile gambling app download. You can now play anytime, anywhere. Whether on a Smartphone or a tablet, there's very little difference between the mobile and desktop gambling experience. Mobile apps are especially useful if one is interested in live betting and quick action.
In 2013, nearly 65 million people had their phones or tablets set with an application to gamble online or play the lottery. And there are forecasts this will grow to over 165 million people by 2018. The biggest market is here in North America, but Asia and Europe are also not far behind when it comes to mobile gambling.
The gambling providers are responding to the rising demand by investing more and more time and money into the development and improvement of these applications. The industry is betting that online gambling will shift more toward mobile gambling in the coming years and that the more than half of the revenues from online gambling via apps will continue to grow.